2014/15 Overall Rank: 13,126 out of 3,502,998 players. Record Top 0.4%! Our best ever finish in FPL!
Fantasy Premier League 2014/15 Review
Points Total: 

2,183
Overall Rank: 

13,126
Highest Rank: 

12,802
Highest Team Value:

£109.6m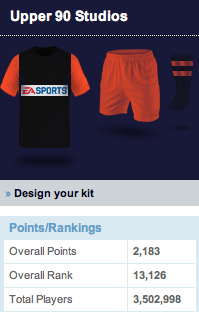 Top Pick and Biggest Flop
Top Pick: Eden Hazard. Barclays Premier League Player of the Year Eden Hazard was also the top player in FPL.
233 points, 14 goals, 10 assists, and 42 bonus points.
Biggest Flop: Wayne Rooney. Rooney was a huge disappointment this season.
2014/15. 132 points, 12 goals, 5 assists, 15 bonus.
2011/12. 230 points, 27 goals, 8 assists, 37 bonus.
Head-to-Head League!
Finished top of our Head to Head mini league with a record of 28W, 2D, 6L. The top four teams face off in the semifinals before the last two gameweeks. #1 versus #4, and #2 versus #3. The two winners meet in the final.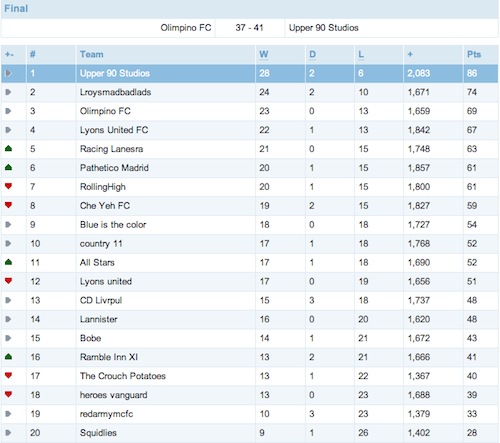 2015/16 Fantasy Premier League. We are coming back even stronger for the 2015/16 season. If you want to stay ahead of the competition, don't forget to subscribe to our email list at the top right of the page. We'll send you our team prediction and best tips which you can use to tweak your team.
What Next?
2015 International Champions Cup: Featuring Manchester United and Chelsea, the ICC once again heads to North America and Upper 90 Studios will be there to bring you all the action. Get a sneak peek of the newest BPL players and transfers this summer by following us on Twitter or Facebook.
Fantasy Premier League
strategy.
For the past 7 years, our team has finished in the top 1-2% of all players. Our strategy is risky. We start slow and build team value by making 1-3 transfers each week. We save on goalkeepers and defenders and load up with expensive midfielders and forwards. By January, we can stack the full team with the most valuable players and come from behind to pull into the top 1-2% of all managers. See our previous finishes HERE.
Stay ahead of your competitors!
What was your Fantasy Premier League 2014/15 overall rank? Leave us a comment and stay tuned for the 2015/16 FPL season!