Over the last five years, my Fantasy Premier League team has ranked in the top 1-2% with over 2 million players each year. What's my strategy?
Here are five secrets, tips, hints for fantasy football managers.
1. Transfers on late Saturday/early Sunday and Wednesday nights. Act before the rest.
The Fantasy Premier League site http://fantasy.premierleague.com/ updates a player's value based on his "transfers in" and "transfers out" ratio. This means after the weekend's games you should confidently make your transfer moves before everyone else. Most people wait until they're at work on Monday to act. If a player underperformed on Sunday, don't wait until later in the week to sell him. Sell him Sunday night before his value drops. By Wednesday night, during Champions League season, you should have important updates on injuries and possible player rotation for the "bigger" clubs' upcoming weekend fixtures. A common strategy for me is to make one or two immediate moves Sunday, feel out the midweek, and try to save a transfer for late in the week in case a player picks up a surprise training injury or didn't recover from injury in time.
2. Cheap overachieving goalkeepers and defenders. Value vs. Points.
Don't spend on expensive goalkeepers or defenders especially early on in the season. Last year Vorm was one of the top keepers from the start and he was a bargain. Phil Jones had an incredible start to the season and his value shot through the roof. Other cheap defenders that were consistently on my team sheet throughout the season were Newcastle's Danny Simpson and Swansea's Ashley Williams. Since it's so common for defenders to pull 1-2 points each week, my preferred formation is 3-4-3 followed by 3-5-2. In five years, I started four defenders in a game a handful of times and it was due to crazy fixtures with teams not playing that particular week. Later on in the season once my team value is sizzling, I may switch a cheaper defender for a big hitter.
3. Check www.fantasyfootballcheat.co.uk (injury, form, value, captain).
The key to using this site http://www.fantasyfootballcheat.co.uk/ is to plan out all my gut instinct transfer moves FIRST, and then check the site to see if I missed something. Their advice is the green light for me to push "confirm." They also have a neat "Vote for Captain" feature that shows how people are thinking. This is key because I like to gamble on captain choice and going against the obvious favorite gives me a distinct advantage.
4. Join Head-to-Head league and prepare for next opponent.
This one is one of my favorites. By checking my next opponent's team, I can plan my transfers, line-up, formation, captain so I won't lose this individual battle. It almost always translates into a win overall. It doesn't mean I go overboard and totally overhaul my team based on someone's ridiculous team. It just means checking out someone else's perspective. They will often have a player who is sneakily and consistently bringing in points.
5. Most important: Build Team Value! Make 1-3 transfers every week.
Building team value until late in the season is the most important tip for me. I make transfers 36 out of 38 weeks with 1-3 transfers per week. I go for the in-form players I think the masses will buy. If Theo Walcott scored a goal and had two assists, I'm buying him. Buy players early and sell if not performing for two consecutive weeks. I'm not patient with ANY player who doesn't perform two weeks in a row. It doesn't matter if it's Aguero or Rooney. Get them out before their value drops and get someone else who's heating up like Newcastle's Demba Ba or Papiss Cisse. The key is to balance each week's transfers points deduction (-4 points or -8 points) especially early on in the season. I don't mind taking a hit for a few weeks early on because I know after January when most people will have one or two strong forwards, I can pull Aguero, RVP, and Rooney until May while still having a monster midfield. After January I rarely lose a Head-to-Head matchup and jump from mid-table in that mini-league to number one every time.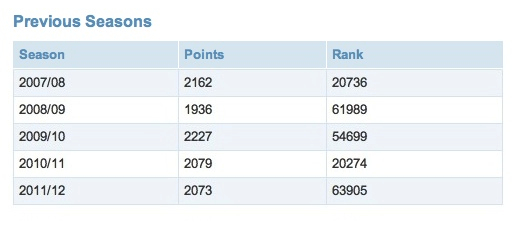 MY TEAM:
2007/08 – Points: 2,162 Rank: 20,736
2008/09 – Points: 1,936 Rank: 61,989
2009/10 – Points: 2,227 Rank: 54,699
2010/11 – Points: 2,079 Rank: 20,274 Team Value: 113.0 (2,462,221 players) – Top 1%
2011/12 – Points: 2,073 Rank: 63,954 Team Value: 115.3 (2,782,949 players) – Top 2%
What are some of your Fantasy Premier League secrets, tips, hints, strategies?