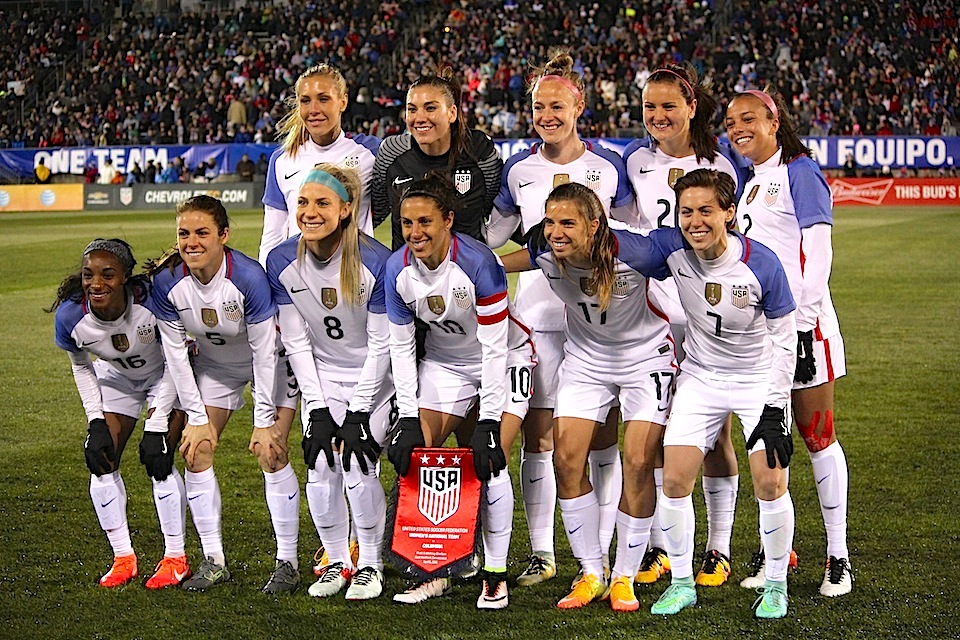 Hartford, CT (April 6, 2016). Cold night, electric atmosphere! The U.S. Women's National Team put on a show in front of a record crowd of 21,792 at Pratt & Whitney Stadium to defeat Colombia 7-0. But who are the stars to watch on the #RoadToRio?
3 U.S. Women's National Team Stars to Watch 

2016 Rio Olympics
Hope Solo
At age 34, Solo shows no signs of slowing down her incredible 10-year USWNT goalkeeping career.  Already a two-time Olympic gold medalist (and World Cup gold medalist to boot,) she will undoubtedly be looking to add to her gold medal collection this summer in Brazil.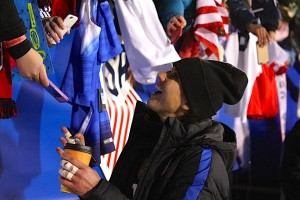 At 193 international caps, she is already the leader for caps by a goalkeeper in U.S. history, and is only seven away from becoming the first goalkeeper in the world to hit 200 caps.  If the U.S. make it to the final in Brazil, she will leave the tournament only one match away from achieving that monumental record.
If those appearances stats weren't convincing enough, Solo holds several other U.S. goalkeeper records, including starts (183), wins (146), shutouts (96), wins in a season (26), consecutive minutes played (1,256), and longest undefeated streak (55 games).
Any way you look at it, Solo is the foundation for the United States' near-impenetrable record of late, and the first name on the starting line-up roster for the U.S. this summer.
Crystal Dunn
Red-hot as the U.S. head into the Summer Games, Dunn, 23, looks to continue to add to her insane statistics of late.  Having played the last seven games of the 2015 Victory Tour, where she scored four goals and netted three assists, she has only added to the tally since returning to the team, by starting 12 games and scoring 11 goals, including 5 in one game against Puerto Rico, which tied a U.S. record for goals in a match.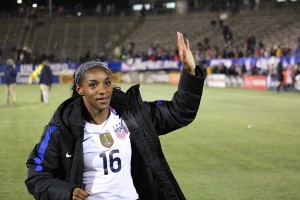 Dunn has competed on behalf of the United States in various national youth teams from 2008 through 2012, including the 2008 FIFA U-17 Women's World Cup. She holds the record for U.S. Under-20 caps with 27, and was in the 2010 FIFA U-20 Women's World Cup in Germany and was a member of the team that won the 2012 FIFA U-20 Women's World Cup in Japan.
She now sets her eyes on cementing a place on the senior team this summer, looking to match Brazil's hot summer with her scoring prowess.
Carli Lloyd
Lloyd's 18 goals in 2015 were a career high for her in a calendar year and eight more than her closest teammate Press (10 goals).
Lloyd has scored 24 goals in her last 23 matches starting with the Round of 16 game at the WWC, 23 of them coming while playing in a withdrawn forward position.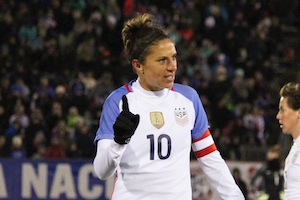 In the Record Books
Carli Lloyd is the 10th woman in U.S. history to reach 200 caps, achieving the feat at the WWC quarterfinal match against China PR on June 26. She is the third active player to reach that mark and 10th overall American. Christie Rampone and Heather O'Reilly are the other two. She also became the third player in U.S. history to score in her 200th appearance. Wambach and O'Reilly are the other two.
Lloyd is the highest active goal scorer in U.S. history with the players ahead of her, Mia Hamm, Abby Wambach, Kristine Lilly, Tiffeny Milbrett and Michelle Akers all retired.
Lloyd is in eighth place on the USA's all-time caps with 220.
Lloyd is in sixth place on the U.S. WNT's all-time goal scoring list. Lloyd, now with 87 goals, is the highest-scoring midfielder in U.S. history even though she has scored 23 of her last 24 goals playing as more of a withdrawn forward. She scored from the penalty spot while playing center-midfield against Puerto Rico on Feb. 15.
Lloyd has scored 12 career goals in Olympic Qualifying, just two short of Abby Wambach's USWNT record of 14.
---
Gallery
Check out all the best moments from the USWNT vs. Colombia game at Pratt & Whitney Stadium in Hartford, CT.
USWNT vs. Colombia 7-0 – Photo Gallery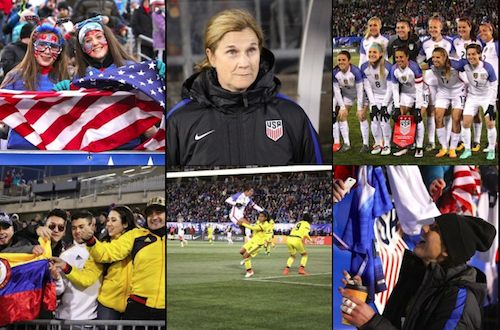 World's Best Athletes
Don't miss out on the opportunity to catch some of the world's best female athletes in action. At the time of this writing, the USA was 10-0-0 in 2016, having scored 39 goals and allowing only one!
Information: http://www.ussoccer.com/