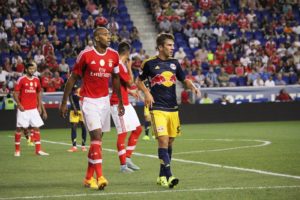 Harrison, New Jersey
Portuguese champions Benfica lost to the New York Red Bulls by a score of 2-1 tonight.  This is Benfica's third straight loss in the preseason International Champions Cup, after losing to PSG and Fiorentina.
Benfica manager Rui Vitória opted for a completely new starting eleven, handing Ederson his first opportunity in goal and Nelson Semedo the right full-back spot, and finally giving Benfica fans an opportunity to see their team's star signing Adel Taarabt in action.  Taarabt's lack of action prior to tonight had raised questions about his relationship with his new manager.
The Red Bulls were coming off a very unexpected but well-deserved win against English champions Chelsea, and began the match with striker Brad Wright-Phillips leading the charge.  On an interesting side note, Wright-Phillips' famous brother Shaun, himself a former Chelsea player, was spotted in the team locker room tonight amidst rumors that he will sign for his brother's team tomorrow.
Kick-off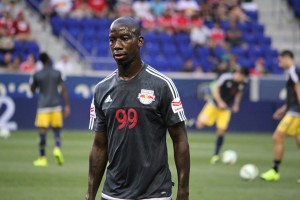 Benfica appeared to have the match controlled, and had it not been for a crucial Luisão error, they likely would have won this match easily.  The Lisbon side kicked off with initiative, and showed a more flowing football than their previous showings against Fiorentina and PSG.
Pizzi opened the scoring after 7 minutes, after a nice combination with Carcela.  However, Wright-Phillips capitalized on a monumental Luisão error to tie the match, and give the Red Bulls some hope 8 minutes later.
Benfica had another very good opportunity right before halftime, on an indirect free-kick one yard from the goal-line, following a Red Bulls pack pass which was handled by the keeper.  Pizzi, however, couldn't get the ball past the New York wall, and the rebound bounced off the referee, who then whistled for halftime.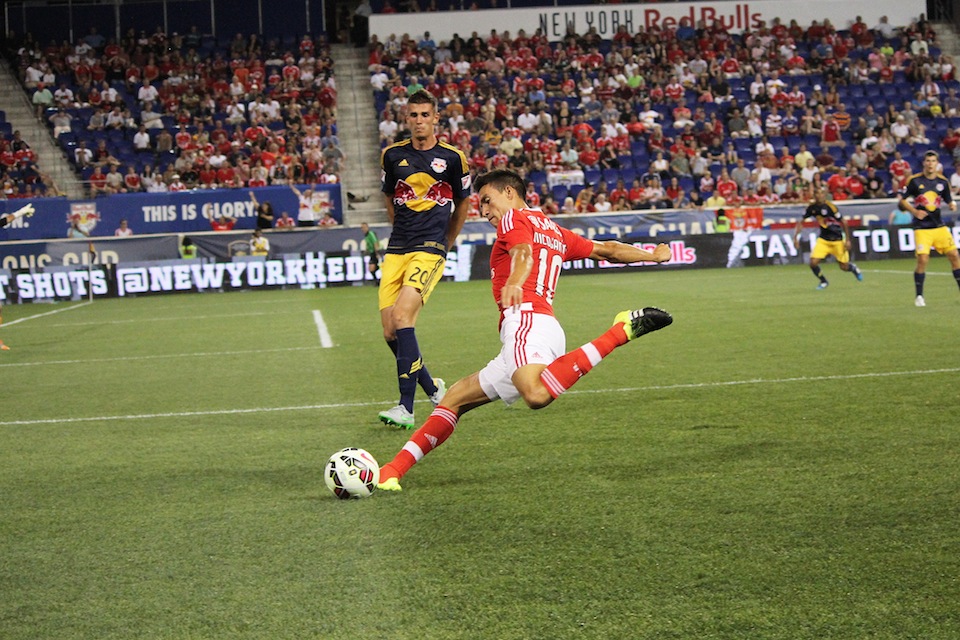 In the second half, the Red Bulls made nine substitutions, whereas Benfica made two: Djuricic for Taarabt, and Gonçalo Guedes for Ola John.  The changes didn't affect the match, and Benfica continued to have the bulk of the possession and opportunities.  However, it was the Red Bulls who scored the winner, through a beautiful lob by Grella, who was introduced at the half.
With 25 minutes to go, Vitória decided to add his big guns to try to salvage something from this match, and introduced Nicolas Gaitán, Jonas and Talisca.  The game changed completely after the changes, and Benfica dominated the last quarter of the match entirely.  However, they were not able to capitalize on any of their opportunities, and they lost their third straight match of the preseason, prior to heading to Mexico for two more friendlies.
Post-Match
In the post-match press conference, Rui Vitória did not appear worried about the score: "Had we scored half of our opportunities, we could have won this match.  We are not satisfied because we didn't win, but we have to look at our processes.  We had various opportunities to score, but a team like ours has to capitalize on those opportunities.  If you don't score, you can't win.  That's where we erred."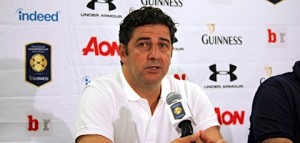 Vitória also commented on Luisão's error that led to the Red Bulls' first goal:  "Errors are a part of the game, and all you're left with, really, are the missed opportunities.  The result does not depict what happened on the field throughout the match."
He continued, "Benfica was well-organized, we passed the ball around very well, and we created a sufficient number of opportunities to win the match.  We deserved to win.  We played 48 hours prior to this kick-off, and there are rhythms that we still need to acquire.  I am not happy tonight because we did not win, but the players played well."
Photo
gallery.
Best moments from the match. Click HERE!