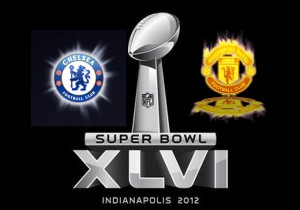 "To do this 10 years ago, we would have either been laughed at or it would have been a violent and immediate rebellion."
-Fox Sports chairman David Hill
On Super Bowl Sunday, FOX will broadcast LIVE on free-to-air television the EPL soccer match between Chelsea and Manchester United. FOX has labeled it "the game before the game."
This is a bold step by FOX to promote the world's sport to American sports fans. It's a great matchup between two EPL teams in desperate need for a win. Think Wayne Rooney will know the game is on "live" in the US on Super Bowl Sunday? YES!
I have a great feeling both teams will be aware of the importance of this match and how it may affect the future of their sport. This is a huge chance for the premiership to tap into the biggest market in the world – American viewers. Finally someone decided to make Premier League matches available to everyone, instead of just the viewers who subscribe and pay for FOX Soccer Channel.
It's a huge wasted opportunity to broadcast high-quality matches and not make them available for free. American sports fans will never pay for FSC, and the only games available on free-to-air channels are high school and college games – BORING!
Is FOX onto something? In November 2011, the match between Chelsea and Liverpool broke the record for the most watched EPL game in US history. If that's not surprising, then how about these facts about that historic match:
Figures topped over two million
Game was broadcast on tape-delay, not live.
Double the number of viewers for the MLS Cup Final on primetime the same weekend
It's worth noting that there is far, far more 100% live Premiership action on US TV than in the UK. But it's on subscription channels such as FSC and GolTV.
Virtually every Manchester United game can be seen here live without interruptions. And although the studio analysis is US-based (with Piers Morgan), the game commentary is live from the ground with UK-based commentary teams.
"The commitment that Fox has made to soccer, interestingly enough, is based on the world game rather than the game that is played in the United States. I think research and audience-gathering information indicates there is considerable interest in worldwide professional soccer, particularly coming from England."
-Former CBS Sports president Neal Pilson
Will soccer ever replace the NFL in the US? Highly unlikely. But soccer will continue to grow over the next 10 to 20 years to an incredible strong niche.
For now, I'm happy with Chelsea v Manchester United "live" on US televisions on Super Bowl Sunday 2012.