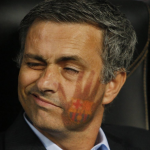 El Clásico. 180 minutes. Was Mourinho hoping for a 1-0 result in the first leg? Why was Real Madrid so dangerous at the Camp Nou?
Jose Mourinho's lack of belief in the heart and courage of Real Madrid, true Madridismo, have led to Real Madrid's elimination from the Copa del Rey. And it was lost at the Bernabeu when he decided he didn't need creative midfielders instead picking eight defensive-minded players.
As I said on Soccer Podcast 17 (Part3), "The only chance he has of beating Barcelona is to play Mesut Ozil and Callejon on the same starting lineup." There's no way Real Madrid can beat Barcelona without creative midfielders feeding their incredible forwards. In the first leg, Mourinho picked Lassana Diarra, Xabi Alonso, and Pepe in the midfield! None of those players have the quality to break through Barça's defense, provide the final killer pass, or create a moment of brilliance. Ok, maybe Alonso, but not in his recent poor run of form.
Allowing Barcelona to have all the possession is suicide.  Impose yourself in the middle and you'll have more control of the game.  It takes a special creative-type of player to break through Barça's intense high-pressure defending. Pepe is not that player!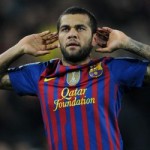 The most important position on the field is the center-mid. Mourinho's refusal to play Ozil or Kaka in the first leg is the reason they're out. Madrid had no chance except for a moment of individual brilliance from CR7. That was Mourinho's strategy. Pack the middle with "bruisers" and hope Ronaldo, Higuain, or Benzema could deliver a moment of individual magic. They lost 2-1.
His lineup for the return leg was good. Through Mesut Ozil and Kaka, Real Madrid were dominant in the first half.  They actually looked dangerous. They looked like Real Madrid. They took the game to Barcelona, which put them on the back foot and never allowed Xavi and Iniesta to dictate the game and control all the possession. Madrid was unlucky to not be up 3-0 in the first 30 minutes.  The two Barcelona goals were against the run of play.
I'll play Fantasy Manager for a minute. Buy FIFA MANAGER 12:Origin Powered by EA Homepage

This is my best Real Madrid starting lineup versus Barcelona (4-3-3 or 4-5-1):
Start Mesut Ozil! He has great ball control, passing ability, vision, scores goals…  He'll take the game to Barcelona and supply the killer final ball to Ronaldo and Benzema.
The "wild card" is Jose Callejon. Or Di Maria. A fit Di Maria would start over Callejon, depending on who's in better current form.  They are the game-changers Mourinho must gamble on if he has any chance of beating the Catalans.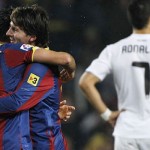 Without a creative attacking center midfielder and a "difference-maker," Jose Mourinho will never beat Barcelona.  The "Special One" prefers to play it safe, going against everything Real Madrid stands for.  The strategy of sitting back and trying to hold off Barça is equivalent to a boxer sitting on the ropes trying to counter-punch.  You have to stand toe to toe with them and fight back! Real Madrid has players with the ability to take the game to Barça and the proof was in the return leg.
Ozil to Ronaldo. Then Callejon to Benzema. Why didn't Mourinho start them in the first leg? He has one more chance this season, maybe his last, to try the Real Madrid way or the coward Mourinho way.
For now, Mourinho's tactics cost Real Madrid a Copa del Rey trophy in 2012, and his shameful record against Barcelona while in charge of the biggest club in the world stands as one win in ten games. Close.