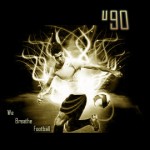 If you feel that our work is valuable to you and you would like to support our mission to spread the word about soccer in the US, please donate with the button provided. We're very grateful for your support.
Being supported by our readers/listeners enables us to share our creative output (podcasts, blog posts) on a regular basis, and also help in improvements to our site.
To donate via PayPal, credit card, or e-check, please click the button below:
(Please use paypal@upper90studios.com as the recipient email)
Who We Are
When it comes to soccer, we are two of the most intensively growth-oriented people you'll ever know. We want to learn more. We want to share more. We feel a huge reason why soccer is not as popular as it could be in the US stems down to one major reason…
Knowledge
The more Americans know about the sport, the easier it will be to embrace.
As brothers growing up, we always had one bond in common. Our passion for soccer. This has carried into our adult lives. We feel more connected now than ever.
We want to share all of our resources to help create a more connected soccer community in the US.
That's why all of our content is free!
What sort of topics should you expect? We are passionate about the Premier League, but also follow La Liga and Serie A, and grew up with the Portuguese League – our first love. We also stay on top of major tournaments such as the FIFA World Cup, UEFA Champions and Europa Leagues, and other tournaments around the world.
Laughter is life's best medicine and we're not afraid to use humor to draw people's attention. At times what may seem as provocation is actually our way of challenging listeners to interpret what we are saying in a thoughtful way.
We want people to think, interpret, connect.
- Bruno and Rui