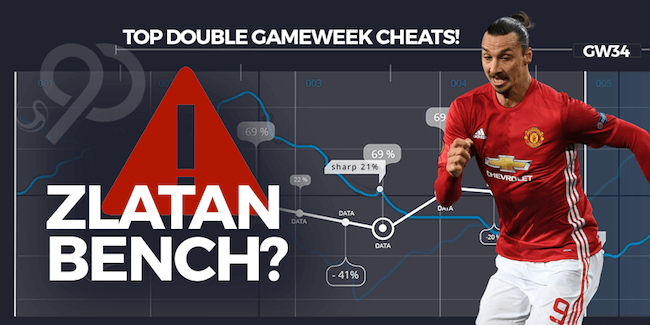 GW33 Points: 66PTS! Team Value: £107.7m! Double Gameweek cheats! Zlatan Ibrahimovic bench and Chelsea collapse. Plus green lights red flags, and our top FPL tips for GW34.
FANTASY PREMIER LEAGUE TEAM TIPS FOR GW34
FPL

GW33 Review
GW33: 66PTS! (AVG: 46PTS). Team Value: £107.7m! 100k Overall Rank is in sight! We are incredibly grateful to have climbed well over a million places since January. Thanks everyone for your support!
Upper 90 Studios Overall Rank climbed from 214,265 to 182,781! 🙂
Chelsea Collapse.
Tactical masterclass.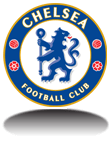 Jose Mourinho laid out the complete blueprint on how to beat Chelsea:
Man-mark Hazard with a tireless worker such as Herrera
Force Pedro infield to stay compact and restrict influence on the wings
Poke Diego Costa just enough for him to lose focus and resort to silly antics
Stretch Chelsea's defenders with pacey forwards instead of a slow striker
This was a humbling defeat for Antonio Conte and his men which could have serious implications in the title race. Pochettino will be ready to pounce in the FA Cup this weekend! If Chelsea don't respond, their season could be at risk of collapsing. What's next for Alonso, Hazard and Costa?
⚽️ Chelsea failed to register a single shot on target in a league game for the first time since 2007.
---
The Good.
Harry Kane (24PTS, captain). Watch out Lukaku! As mentioned in last week's post, Bournemouth concede goals for fun, so it was no surprise that they were easily brushed aside 4-0 by Spurs. Having scored five goals in his two games against the Cherries, Harry Kane practically picked himself! A goal and an assist meant that for the second week running our captain delivered maximum bonus points. With his goal, Kane became the only player in Premier League history to score 20+ goals in 3 consecutive seasons. To put it into perspective, Wayne Rooney has scored 20 league goals just twice in his career!
⚽️ Kane is averaging 15 points per game in his last 3 league starts. (6G, 2A)

Kyle Walker (6PTS). Despite being a top defender pick at home versus Bournemouth, over 100 thousand Fantasy managers sold Walker ahead of GW33. Our instinct said to wait, although we can understand the frustration when a premium defender misses out! It was also easier for us to gamble on Walker after being saved by our bench in the recent games he missed. Last season, Spurs ran out of steam at the crucial stage and Pochettino has learned from his mistake. He reinstated Walker after a much needed rest and the fullback delivered a composed performance that restricted in-form Josh King and his Bournemouth teammates to just one shot on target. Kieran Trippier is now back on the bench.
⚽️ Walker is now the third highest scoring defender in FPL.

Other Standouts: Leighton Baines (6PTS), Dele Alli (6PTS), Alexis Sanchez (7PTS), Romelu Lukaku (6PTS)
---
The Bad.
None. Struggling to pick out major offenders after another solid score. But if we have to…
The gamble on double Everton defenders nearly came off hadn't it been for goalkeeper Joel Robles. With Sam Vokes running away from goal, Robles inexplicably lunged in for a tackle. The resulting penalty goal wiped out a clean sheet for two of our defenders in an instant! 😡
To be fair, Burnley started as the more threatening side, but it's no excuse for Robles who was guilty of mistiming and mishandling far too many high balls into the box. A great goalkeeper isn't judged by the saves he makes, he's judged by his mistakes (or lack thereof). Thankfully, Baines softened the blow.
---
Hit or Miss.
Apologies to those who sold Jamie Vardy (9PTS) on our advice. We listed him as a rotation risk with Leicester's midweek Champions League decider, but we were wrong. 🙁 Out of 7 players in last week's green lights/red flags section, we got 5 correct. Hopefully those who sold Vardy pulled in Kane!
Green Lights
Kane 12PTS ✅
Son 10PTS ✅
Alli 6PTS ✅
Zaha 2PTS ❌
Jagielka 11PTS ✅
Red Flags
Vardy 9PTS ❌
Costa 1PTS ✅
---
FPL GW34

Team
Transfers: ?
Transfers OUT: Undisclosed ❌
Transfers IN: Undisclosed ✅
Final GW34 Team: Coming never…
Due to a key matchup in a mini-league, we are unable to disclose our transfers and final team this week. "Unable" is not the right word. We just don't want to! 😶 The freedom to keep our team a secret is a part of our strategy. Some weeks, we share it all. Other times competitive instinct takes over. Ever since implementing this change, it's been all green arrows! Most of our friends here will understand. 👍
*Stay tuned to this blog. We'll post transfers and updates here or in the comments section.
*Stay tuned. We'll rate teams, share FPL tips and post the latest updates in the comments section.
---
FPL GW34

top cheats.
Double Gameweek.
Manchester United, Crystal Palace and Middlesbrough play twice this week. Who will you bet on?

Manchester United.
The standout team for DGW34 with key players De Gea, Valencia and Ibrahimovic. Other options include Bailly and Rojo, although the latter can be red-card prone. The main concerns are tricky away fixtures – Burnley and Man City – and their busy April schedule which sees them playing every 3-4 days. It came as a surprise when Mourinho dropped Zlatan ahead of the Chelsea match, but it's understandable. Three games in nine days isn't enough recovery time for a 35 year-old. 👴
Crystal Palace.
Given the attacking threat that Liverpool and Tottenham possess, it's harder to bet on Crystal Palace defenders for DGW34. However, there are some potential gems in attack with Zaha, Townsend and Benteke the standouts. Benteke in particular will have extra motivation against former club Liverpool.
Middlesbrough.
Bournemouth away and Sunderland at home are enticing fixtures on paper, but the Cherries will want to respond after the 4-0 Spurs defeat, while the Black Cats are fighting for their Premier League lives. Middlesbrough are now winless in their last 15 games so it's not easy to invest in their players. A quick glance at the Premier League table exposes their strengths and weaknesses. Boro struggle in front of goal and boast the worst scoring record this season netting just 22 goals. Spurs scored as many goals in their last seven games! Their defense, however, is a different story with just 37 goals conceded, impressive figures for a club in the relegation zone. For comparison, Liverpool (40), Arsenal (39), and Everton (37) have similar goals-against stats. In fact, Middlesbrough rank 5th in fewest goals conceded!
---
Update Injury!
Zlatan Ibrahimovic has suffered a serious knee injury similar to Kurt Zouma last season. Hyperextended knee.
Marcos Rojo was also stretchered off with a knee injury for Man United.
Victor Valdés has been ruled out of the Bournemouth game with a rib injury.
*For the latest on injuries, a trusted source is @BenDinnery on Twitter. 😷
---

Green Lights
red flags.
Green Light: Victor Valdés (0PTS) and Ben Gibson (1PTS). Middlesbrough have an excellent defensive record and their Double Gameweek 34 fixtures are green. Defensive cover is worth considering in the short-term, then they close out the season against Man City, Chelsea, Southampton and Liverpool.
*UPDATE April 17: Valdés is suffering from a rib injury and is a doubt for GW34.
*UPDATE April 20 Valdés is ruled out of the Bournemouth game with a rib injury.
Green Light: Phil Jagielka (11PTS). We said it last week that his numbers were excellent… for a forward! Jags scored yet again and was a 'Joel Robles' away from a clean sheet. GW34 opponents West Ham will be without key attackers Antonio and Noble due to injury and suspension.
⚽️ Jagielka has now scored in his last 3 games, averaging over 11 points per game.
Green Light: Christian Benteke (6PTS). Tends to go on end-of-season goal-scoring runs. Double Gameweek 34 increases his points-scoring potential, but Liverpool and Spurs have a lot on the line and will fight hard to keep Crystal Palace out.
*UPDATE April 20: Liverpool are struggling with injuries to Klavan, Matip and Lucas. All three have failed to train ahead of GW34 and Benteke's chances increase if they're out.
Green Light: Romelu Lukaku (6PTS). His last two games at Goodison Park produced three goals. Blanks in his last two away games raise some eyebrows, although he didn't face West Ham! The Hammers have a poor home record and could be without defenders Reid, Cresswell, Ogbonna and Byram. Andy Carroll at center back this week please. 🙂
*UPDATE April 20: Winston Reid and Aaron Cresswell are available for GW34. Bilic could go with Reid and Fonte at centerback which isn't as enticing for Lukaku as James Collins. However, no chance of Andy Carroll at centerback because he is ruled out yet again!
Red Flag: Coming soon…
---
Players to Watch.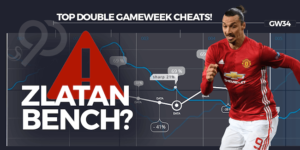 Zlatan Ibrahimovic (0PTS). Shock when the lineups came out and Ibra was named on the sub's bench versus Chelsea! Why drop your top scorer against the league leaders? Attacking sides that set up compact with a high defensive line can leave vulnerable space behind the defenders for pacey attackers such as Rashford and Lingard to exploit.
Against teams like Burnley that like to sit deep, having a world-class finisher like Zlatan can be the difference. They may be able to stop the likes of Martial, Rashford and Mkhitaryan, but Ibra has that extra bit of quality to break them down.
⚽️ Will Mourinho do the unthinkable and bench Ibrahimovic against Manchester City?
*UPDATE April 20: Zlatan has suffered a serious knee injury similar to Kurt Zouma last season. Hyperextended knee. All fantasy aside, it's horrible to see, hoping he's ok. 🙁
Gylfi Sigurdsson (2PTS). Now winless in six Premier League games, the pressure is on Sigurdsson to save Swansea from relegation. He works hard and is one of our favorite players to watch, but the gap in quality between Siggy and his teammates is just too great. Swansea's run in the top-flight may be over.
Eden Hazard (2PTS). Couldn't escape Ander Herrera who stuck to him like glue for 90 minutes. If other teams employ similar tactics against Hazard, will Conte have a Plan B?
Marcos Alonso (0PTS). Failed to complete the warmups against United due to illness. More worryingly for Chelsea is they're now without a clean sheet in their last ten games.
Alexis Sanchez (7PTS). Brilliant free kick goal to put Arsenal ahead. A solid performance from Sanchez, but the best moment came at the final whistle as he celebrated the win with teammates and fans. Double Gameweeks GW36 and GW37 to close out the season with a total of seven games in the last five Gameweeks against opponents such as Southampton, Stoke and Sunderland.
⚽️ Sanchez has now scored more Premier League away goals than any player this season (13).
---
Price 

rise and drop.
Here are our best price change predictions ahead of GW34!
Possible Price Rise: Jagielka, Son, Zaha, Benteke, Kane, Ibrahimovic
Possible Price Drop: McAuley, Sterling, Sigurdsson, Costa
Watchlist: Danny Shittu, Paul Dickov, Milan Fukal
---
Captain.
? is set as captain at the moment, but we could make an impulse switch to ? before deadline.
Final GW34 Team: Coming never…
Stay up-to-date with our last-minute transfers and captain choice on Twitter or Facebook.
---
U90
mini league.
Rank
Team & Manager

GW

TOT

1 
Best in world
David Nicholson
57
1923
2 
Santa Fe Cockroaches
Mick Jones
62
1904
3 
CheCheese LC
Anuwat Vaewraveewong
72
1902
4 
magpie36
Peter Kidd
66
1877
5 
KDBinho
Adnan Hajrulahovič
64
1875
6 
Nyoritis FC
Oliver Wanyama
62
1856
7 
Bells Ballers
Matthew Bell
55
1849
8 
Bold Move Cotton
Andrew Bryson
48
1842
9 
Ragtag Ratbags
Eamon Gilmour
61
1840
10 
slap me, slap me
Ustaz Kedir
52
1840
---
Fantasy Premier League
strategy.
For the past 9 years, our team has finished in the top 1-2% of all players. 2014-15 was our best finish ever: Overall rank 13,126, top 0.4%. Our strategy is risky. We start slow and build team value by making 1-3 transfers each week. We save on goalkeepers and defenders and load up with expensive midfielders and forwards. By January, we can stack the full team with the most valuable players and come from behind to pull into the top 1-2% of all managers. See our previous finishes HERE.
Stay ahead of your competitors! Don't forget to subscribe to our email list at the top right of the page. We'll send you our weekly team prediction and best tips which you can use to tweak your team. Stay up-to-date with our last-minute transfers and captain choice on Twitter or Facebook.
---
Rate My Team.
Double Gameweek cheats! Will Mourinho bench Zlatan Ibrahimovic against Man City DGW34? Leave us a comment and let's rate your GW34 team.
Good luck!
-Bruno