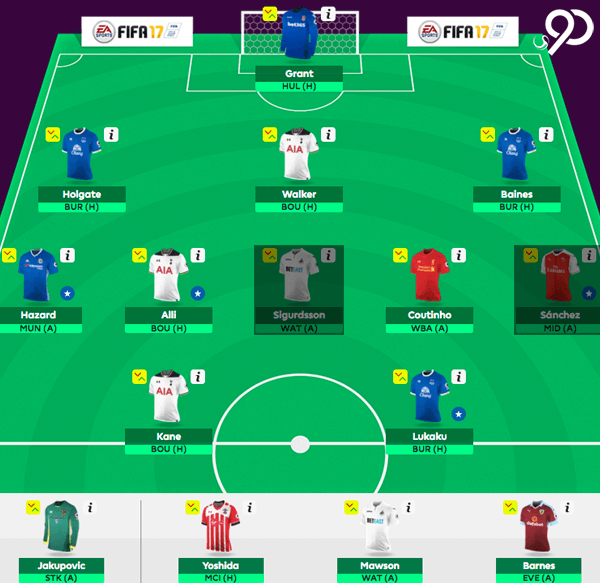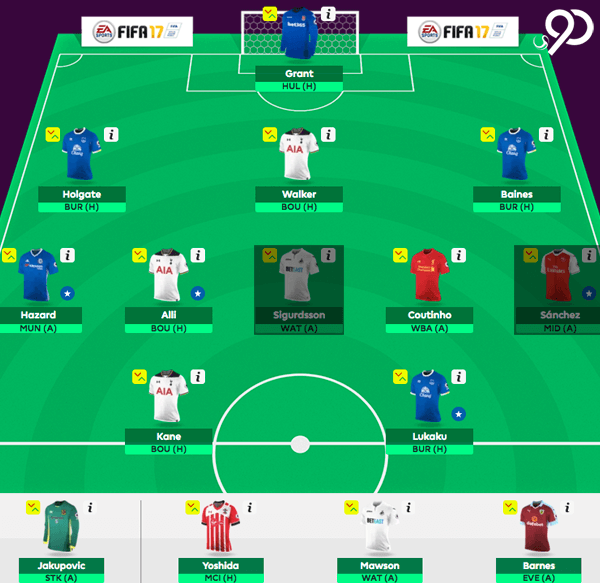 GW32 Points: 72PTS! Team Value: £107.1m! Kane, Ibrahimovic, or Aguero? Best premium forwards revealed! Time to sell Sanchez? Plus green lights red flags, and our top FPL tips for GW33.
FANTASY PREMIER LEAGUE TEAM TIPS FOR GW33
FPL

GW32 Review
GW32: 72PTS! (AVG: 56PTS). Team Value: £107.1m! Highest overall rank this season! The green arrows continue, now 11 out of the last 14 Gameweeks. So many positives with a few red flags mixed in.
Upper 90 Studios Overall Rank climbed from 232,050 to 214,265! 🙂
Support system.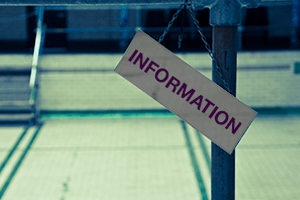 Be relentless in making your vision of the ideal team a reality. Sometimes that means significant changes, other times self-restraint is the key. Instead of reacting to events, take charge of your ship by making confident decisions based on knowledge, instinct and information. When the tide turns against you, don't get caught blind. A lack of information can be one of the biggest enemies in FPL, so focus on absorbing the right kind of information without being overwhelmed.
⚽️ Don't let it happen, make it happen.

---
The Good.
Maya Yoshida (9PTS). Who needs van Dijk? Hailed by manager Claude Puel as the player who changed their season, Yoshida has been in superb form. Southampton have been sneaking up the Premier League table with two wins and two clean sheets in their last three games. They also have two games in hand that will become Double Gameweeks later on. 🙂
⚽️ Priced at just £4.4m, Yoshida is averaging 9 points in his last 3 games.

Eden Hazard (20PTS, captain). Unplayable. There's nothing more frustrating to watch than players hiding behind opponents instead of offering a passing option for the teammate in possession. The best player we've ever seen at creating passing options was Paul Scholes. Now we have Hazard working hard to receive the pass from the center mids and wingbacks.
Often judged on pure numbers – goals and assists – his contribution off the ball is just as important. He didn't disappoint against Bournemouth with a brilliant goal that earned him maximum bonus points! Had Diego Costa's shoelaces not been tied together, Hazard may have had a few assists to boot! 🙂
⚽️ Hazard's 14th goal of the season equalled his best ever tally in the Premier League.

Philippe Coutinho (8PTS). GOLAÇO! Coutinho battled illness and came off the bench to lead Liverpool to a crucial comeback win over Stoke. A brilliant 45 minutes and neat finish were enough to earn him MOTM honors. Congrats to those who stuck by him despite FPL giving him a 50% chance of playing!
⚽️ Coutinho has more Premier League goals (30) and assists (28) than any other Brazilian.

Romelu Lukaku (13PTS). What a game! Did Leicester have an eye on the Champions League? Resting key players resulted in a typical Lukaku performance at Goodison, two simple goals and all three bonus points! Big Rom is leaving other Premier League strikers in the dust, now sole top scorer with 23 goals.
⚽️ Lukaku has now scored 12 goals in his last 7 home games (no blanks).

Other Standouts: Dele Alli (8PTS), Diego Costa (8PTS)
---
The Bad.
Kyle Walker (0PTS). Benched for the second time in the last three Gameweeks! Pochettino's decision isn't as shocking when we consider the quality of recent opponents. If ever there was an opportunity to give Walker a rest, it was against a Watford side decimated by injuries and suspensions. Remember when Spurs ran out of steam last year? Rotating Walker ahead of a brutal season run-in makes sense.
Alexis Sanchez (2PTS) and Gylfi Sigurdsson (2PTS). The two most damaging results of the round were the defeats suffered by Arsenal and Swansea. Sanchez and Siggy were standout performers, but sometimes you need a moment of magic from your star player. This time they failed to deliver. 🙁
---
Luck Factor.
As mentioned in our last post, luck is the one factor we can't control. This week started with three of our starters benched! Bad luck, or a good luck charm?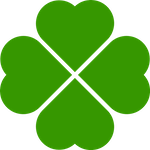 Kyle Walker: Benched, did not feature. Yoshida first sub with 9PTS!
Philippe Coutinho: Benched, but unleashed at halftime for a surprising 8PTS!
Chris Brunt: Benched, came on as a sub and delivered an astonishing 1PTS!
Since buying Walker GW30, he has been benched twice by Pochettino! Fortunately, in both instances our first player off the bench stepped in for a return, Brunt GW30 and Yoshida GW32. Keeping them around worked well in the end. We never get angry over points left on the bench because that's what they're there for. 👍
Diego Costa (8PTS). Eight points from two "assists" isn't enough to mask Costa's poor performance. His first touch was like a dog chasing a balloon. The first assist was a horror volley attempt that deflected in off the defender. With a different striker at the end of Hazard's crosses, Chelsea could've scored a handful of goals against a weak Bournemouth defense. Was this his final contribution in your team?
---
FPL GW33

Team
Transfers: 3 (-4 hit)
Transfers OUT: Brunt, Sigurdsson, Costa ❌
Transfers IN: Holgate, Zaha, Kane ✅
Final GW33 Team: http://upper90studios.com/2016-17-fpl-gw33-latest-team.png
*Working on a few drafts that involve additional transfers.
Brunt to Holgate
Chris Brunt (1PTS). Benched by Pulis yet again and he's not exactly cheap at £5.1m. West Brom have Liverpool next, then a blank GW34.
Holgate (1PTS). Works hard and shows maturity for his age. Next up for Everton is Burnley who had just 7 shot attempts in their last game.
Costa to Kane
Diego Costa (8PTS). Is it fatigue? Whatever the reason, it must be getting harder for Conte to see Chelsea's attacks break down when Costa is involved. Dog chasing a balloon. It's late, need to sleep.
Harry Kane (1PTS). Instant impact against Watford. Kane came close with an attempted assist and rattled the crossbar with a thunderous free kick. Bournemouth at home next. #FPL captain?
***Possible Transfers
Plan A. Sell Sanchez to free up funds for Zlatan. This would give us a front 3 of Kane, Lukaku and Ibra.
Plan B. Sell Sigurdsson and make a move for a Crystal Palace attacker.
Plan C. Keep Sanchez and Siggy.
Our main strategy in FPL is to watch as many games possible so we can make intelligent predictions based on what we see. But this season, following individual and team form has been less effective! We're now experimenting with occasionally going against our gut by giving players on the chopping block an extra week or two to bounce back.
*UPDATE April 14: Transfer confirmed! Andros Townsend has been pictured in training ahead of the Leicester match. This combined with news that Swansea regular Jack Cork is out injured made us swing for Plan B! Sigurdsson out, Zaha in which sets us up for DGW34.
LINK: Andros Townsend Pictured in Training
*Stay tuned to this blog. We'll post transfers and updates here or in the comments section.
---
FPL GW33

top cheats.
Premium Forwards.
Priced at £11.3m, £11.4m and £12.8m, which premium forward will you pick for the season run-in?
Harry Kane.
3-season wonder! 😉 Kane's quick recovery from injury will have caught many Fantasy managers by surprise. It must've been killing him to sit on the sidelines watching Spurs smash in goals as if they didn't need him.
Kane will also be chasing down Lukaku for the Premier League Golden Boot. A hat-trick against Bournemouth would pull him within a goal of Big Rom, but are you brave enough to bet on the early kickoff?
Zlatan Ibrahimovic.
World-class. Zlatan can score against anyone and Double Gameweek 34 is right around the corner. The main concern is midweek Europa League which increases the risk of injury, fatigue and rotation.
Manchester United can also struggle to create goal-scoring chances, although it didn't look like it against Sunderland! It's impossible to ignore his two goals and an assist since returning from suspension.
Sergio Aguero.
Completely different player without the pressure of Gabriel Jesus. Aguero is in excellent form with returns in six out of his last seven league games.
GW29: 6pts
GW30: 7pts
GW31: 8pts
GW32: 9pts
GW33: ???
---

Green Lights
red flags.
Green Light: Harry Kane (1PTS). Making it rain goals in favor of their opponents is what Bournemouth do best. Five goals conceded in their last two games.
Green Light: Dele Alli (8PTS). 16 league goals this season, more than Griezmann (15) and Hazard (14). Alli has had a hand in as many league goals before turning 21 as Lampard, Gerrard and Beckham… combined.
⚽️ Alli has been directly involved in 8 goals in his last 6 games. (5G, 3A)
Green Light: Eden Hazard (10PTS). Big game player. Chelsea players will be motivated against Mourinho, having smashed Man United 4-0 earlier in the season. The timing is perfect to face United as they travel to Belgium for Thursday's Europa League quarterfinal first leg.
Green Light: Wilfried Zaha (11PTS). MOTM! Zaha was a constant nightmare for Arsenal defenders registering two assists and two bonus points. A favorable home fixture next in Leicester City who could rest key players such as Fuchs as they focus on European football.
UPDATE April 11: Andros Townsend has a possible heel injury suffered near the end of the Arsenal match. He left the stadium on crutches, but stated he thinks "he'll definitely be fit" for GW33. If he's out, it could affect Zaha's points-scoring potential. Townsend scored the first goal and covered more ground than anyone on the pitch against Arsenal.
Green Light: Heung-Min Son (19PTS). On fire! 🔥 Son has now scored 11 goals in the Premier League, 18 goals in all competitions! Phenomenal figures considering his limited playing time. Son is now only one goal shy of the single season scoring record in Europe by a South Korean. The concern is Kane is back which means someone could drop out in the attack. It would be harsh for Pochettino to bench Son after recent performances and he is a top pick whether he starts or comes off the bench.
Green Light: Phil Jagielka (12PTS). Two goals and an assist in the last two games are great stats for a forward. Williams should be back for the home match versus Burnley, which increases Jagielka's chances of keeping a clean sheet.
Red Flag: Jamie Vardy (5PTS). Barely squeaked in 60 minutes GW32 and possible limited playing time again GW33. Leicester will now turn their attention to Atletico Madrid in the Champions League.
Red Flag: Diego Costa (8PTS). 🐶🎈
---
Players to Watch.
Alexis Sanchez (2PTS). Arsenal's best attacking threat in a humiliating 3-0 defeat at Crystal Palace. Even though his points-scoring potential is declining, his positioning is less worrying than Arsenal's performances as a team. Welbeck has been ineffective, midfielders don't want it enough and hide when things get tough. Sanchez can't do it alone, is it time to sell?
Gylfi Sigurdsson (2PTS). Arguably Swansea's worst performance of the season. The sense of urgency wasn't there, almost as if they've accepted their fate. Hard work, technique and creativity. Siggy's teammates can't keep up with him at any level and his frustration is becoming more noticeable with every game. Can Siggy save Swansea from the drop?
Kyle Walker (0PTS). Rested, or no longer nailed on? If he plays, Walker is a top defender pick for GW33. His price dropped Sunday night, but we absorbed it with a £0.1m buffer.
Antonio Valencia (0PTS). Definitely rested. Midweek trip to Belgium, then in-form Chelsea on Sunday.
---
Price 

rise and drop.
Here are our best price change predictions ahead of GW33!
Possible Price Rise: –
Possible Price Drop: –
Watchlist: Alonso, Valencia, King, Zaha, Ibrahimovic, Benteke, Aguero
---
Captain.
Harry Kane is set as captain at the moment, but we could make an impulse switch to Lukaku or Hazard before deadline.
Final GW33: http://upper90studios.com/2016-17-fpl-gw33-latest-team.png
Stay up-to-date with our last-minute transfers and captain choice on Twitter or Facebook.
---
U90
mini league.
Rank
Team & Manager

GW

TOT

1 
Best in world
David Nicholson
85
1866
2 
Santa Fe Cockroaches
Mick Jones
75
1842
3 
CheCheese LC
Anuwat Vaewraveewong
61
1838
4 
KDBinho
Adnan Hajrulahovič
74
1811
5 
magpie36
Peter Kidd
85
1811
6 
Nyoritis FC
Oliver Wanyama
68
1798
7 
Bold Move Cotton
Andrew Bryson
81
1794
8 
Bells Ballers
Matthew Bell
78
1794
9 
slap me, slap me
Ustaz Kedir
83
1792
10 
THE RED DEVILS
eugene mcsweeney
85
1789
---
Fantasy Premier League
strategy.
For the past 9 years, our team has finished in the top 1-2% of all players. 2014-15 was our best finish ever: Overall rank 13,126, top 0.4%. Our strategy is risky. We start slow and build team value by making 1-3 transfers each week. We save on goalkeepers and defenders and load up with expensive midfielders and forwards. By January, we can stack the full team with the most valuable players and come from behind to pull into the top 1-2% of all managers. See our previous finishes HERE.
Stay ahead of your competitors! Don't forget to subscribe to our email list at the top right of the page. We'll send you our weekly team prediction and best tips which you can use to tweak your team. Stay up-to-date with our last-minute transfers and captain choice on Twitter or Facebook.
---
Rate My Team.
Kane, Ibrahimovic, or Aguero? Top premium forwards revealed! Time to sell Sanchez? Leave us a comment and let's rate your GW33 team.
Good luck!
-Bruno