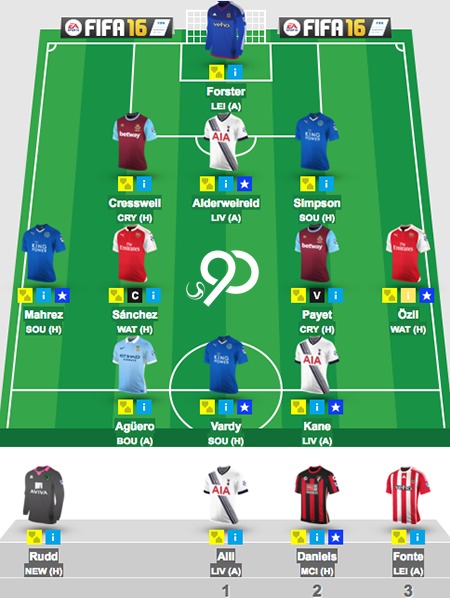 GW31 Points: 78PTS! Team Value: £110.3m! Ozil out? Payet and Sanchez in! Double Gameweek planning. Plus, Firmino injury, under-the-radar picks and our top FPL tips for GW32.
FANTASY PREMIER LEAGUE TEAM TIPS FOR GW32
FPL

GW31 Review
GW31: 78PTS! (AVG: ?). Team Value: £110.3m! Position yourself to succeed. The strategy to boost team value in the first half of the season is paying off. 7 consecutive weeks of green arrows!
Since GW24, Upper 90 Studios overall rank climbed from 604,996 to ? (closer to 100k)
London trip!
We met with app developers in London to discuss a project for this summer's Copa America. Not only was the meeting a success, the pieces are falling into place for our very own U90 FPL app next season! We were fortunate to enjoy the sun while visiting the best sights such as the London Eye, and topped it all off with "fish and chips" at the pub while watching Barcelona vs. Arsenal. Check out our photo gallery! -Bruno 🇬🇧
---
The Good.
Harry Kane (32PTS, captain). One season wonder? Harry Kane is in the form of his life. Two goals, one assist and maximum bonus points for our captain. Credit must be given to Pochettino for resting Kane in Europe in order to focus on the league. At this stage in the season, injuries and rest play a crucial role.
⚽️ Kane is the first player to score 20 Premier League goals this season (21 goals).
Riyad Mahrez (9PTS). With his 17th goal of the season, Mahrez sent Leicester eight points clear at the top. He could've scored another after being put clean through one-on-one with the keeper, but Hennessey did well to get a piece of it. Another positive is how well he combined with Vardy. Mahrez and Vardy have set each other up for 8 Premier League goals this season, joint-top with Ozil and Giroud.
⚽️ Mahrez has been involved in more goals this season any other player (16G, 11A)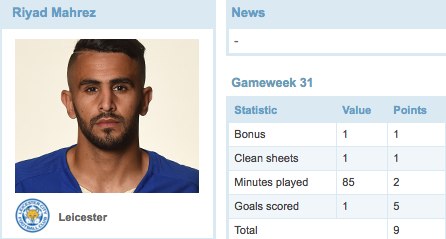 Other Standouts: Danny Simpson (6PTS), Dele Alli (6PTS), Gylfi Sigurdsson (5PTS)
---
The Bad.
Fraser Forster (3PTS). Not good enough. Forster was too slow getting down for Coutinho's goal, but more worryingly was Koeman's woeful defensive tactics. Time and time again Liverpool found themselves 3-on-2 on the counter-attack. Southampton's defensive mids and fullbacks weren't bothered tracking back, and Southampton were fortunate to concede just twice in the first half.
---
FPL GW32

Team
Transfers: 2
Transfers OUT: Sigurdsson, Silva
Transfers IN: Payet, Sanchez
We're putting our 2FTs to use with an eye on short-term points and DGW34. With a 2-week international break, making two transfers this early is a massive risk.
*Stay tuned to this blog. We'll post transfers and updates here or in the comments section.

---
FPL GW32

top cheats.
There are many elements to take into account when making transfers. Player and team form, fixtures, rest/rotation and more. The most important however, is watching the games and trusting your gut.
Gylfi Sigurdsson (5PTS). The perfect short-term transfer! Since bringing him in GW29, Siggy has delivered an average of 8 points per game. His price has also increased enough for us to bank a profit. Now comes the tough decision which is to follow our instinct and sell a player in pretty decent form.
We watched the Swansea vs. Aston Villa match closely and The Swans were far from impressive. Their attack lacked bite and Gomis isn't good enough to lead the line. Their fixture list in the run-in isn't the most favorable either. Another key factor in this move is Siggy's replacement.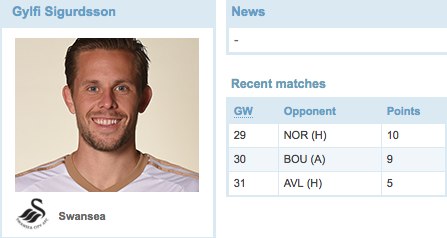 Dimitri Payet (5PTS). Payet was awesome against Chelsea. Despite just the one assist, he had countless chances for points. Payet was always in the key areas we look for when scouting FPL midfielders. He also has the support from dangerous players around him. Players like Lanzini, Antonio, Valencia, Sakho and super-sub Andy Carroll all command attention from defenders giving Payet the freedom to work his magic.
It also helps that he's one of the best set-piece specialists in the league! At Stamford Bridge, Payet sprinted over to take corners from both sides, and his free kick late on nearly bagged all three points for The Hammers. Only Willian has scored more goals from free-kick goals than Payet this season.
⚽️ No Premier League player has more assists in 2016 than Dimitri Payet (5).
---

Green Lights
red flags.
Green Light: Alexis Sanchez (5PTS). Consistency. Sanchez has now scored at least 5 points in each of his last three games. As mentioned in the comments section of last week's post, Arsenal are still in the title race. They have the quality with players like Ozil, Sanchez and the emergence of Welbeck in attack.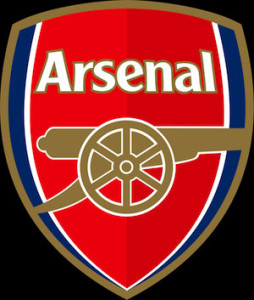 Green Light: Danny Welbeck (8PTS). Welbz has been awesome since returning from a long-term knee injury. He has all the attributes to become a top player for Wenger:
Excellent link-up play
Lightning pace
Goals? ⚽️
Maybe not goals just yet! If he can develop that deadly composure in front of goal that he's shown in recent games, Manchester United will regret selling one of their own to a top rival.
Green Light: Dimitri Payet (5PTS). One of the standout performers GW31, and a top pick for GW32. It helps that Payet has two Double Gameweeks, DGW34 and DGW37. Keep in mind West Ham has off GW35, so plan accordingly.
Red Flag: Odion Ighalo (2PTS). Ighalo has scored 2 points in 10 out of his last 11 games. His sell-by date expired over a month ago.
Red Flag: David Silva (2PTS). Silva is playing through the pain barrier from an ankle problem which has haunted him this entire season. Another concern is the injury to Sterling. A shift in tactics could now see Toure moving into the #10 spot behind Aguero with Silva pushed out to the left away from the points.
Red Flag: Charlie Daniels (1PT). Not sure why managers are still buying him! If we had enough transfers, Daniels would've been sent packing last week. With the exception of GW33, Bournemouth have arguably the worst run-in of any team.
Red Flag: Manchester City defenders. Without their inspirational captain and leader Vincent Kompany, we don't expect many clean sheets. Manuel Pellegrini also likes to rotate at the fullback position, so betting on Sagna, Clichy or Kolarov comes with its own risks. If you can predict how he'll rotate, then send that info our way. 😉
---
Players to Watch.
Who are the under-the-radar picks for GW32?
Tim Klose (9PTS). Another clean sheet and maximum bonus points. Norwich's next 3 fixtures are against Newcastle, Crystal Palace, and Sunderland. At £4.2m, Klose is a bargain defender option as a 3-Gameweek gamble. *Klose has a blank GW35, then DGW37.
Graziano Pelle (12PTS). No one celebrates a goal like the Italians. Pelle is the epitome of a "confidence" player. If he's scoring, they just keep going in. When he's off, stay far away.
Philippe Coutinho (7PTS). Forster could've done better with the first goal, but Coutinho deserves credit for yet another trademark curler from outside the box. The concern was the final score! It looked like a rout in the first half when Liverpool banged in a third which was ruled offside. Mane missed a penalty, but still inspired Southampton to victory. Up next for Liverpool is Tottenham. Hard to predict this one!
Dele Alli (6PTS). Alli provided an assist to Kane and could've scored late on. He has now assisted Harry Kane for 7 Premier League goals this season, the most assists from one player to another in 2015/16.
⚽️ Alli has more assists than any other English player this season (8).
---
Price

rise and drop.
Here are our best price change predictions ahead of GW32.
Possible Price Rise: Bellerin, Fuchs, Payet, Coutinho, Alli, Kane
Possible Price Drop: Cech, Kompany, Dann, Ozil, Firmino, Barkley, Ayew, Ighalo, Costa
Watchlist: Cech, Ruddy, Bellerin, Klose, Welbeck
---
Captain.
Alexis Sanchez is set as captain at the moment, but we could make an impulse switch to Payet before deadline. Stay up-to-date with our last-minute transfers and captain choice on Twitter or Facebook.
---
Fantasy Premier League
strategy.
For the past 8 years, our team has finished in the top 1-2% of all players. 2014-15 was our best finish ever: Overall rank 13,126, top 0.4%. Our strategy is risky. We start slow and build team value by making 1-3 transfers each week. We save on goalkeepers and defenders and load up with expensive midfielders and forwards. By January, we can stack the full team with the most valuable players and come from behind to pull into the top 1-2% of all managers. See our previous finishes HERE.
Stay ahead of your competitors! Don't forget to subscribe to our email list at the top right of the page. We'll send you our weekly team prediction and best tips which you can use to tweak your team.
---
Rate My Team.
Are you selling Ozil? So many players to discuss, Payet, Sanchez, Firmino, Coutinho! Leave us a comment and let's rate your GW32 team.
Good luck!