GW29 Points: 60PTS! Team Value: £107.3m! Alexis Sanchez injury! Transfer strategy for the international break revealed. Plus green lights red flags, and our top FPL tips for GW30.
FANTASY PREMIER LEAGUE TEAM TIPS FOR GW30
FPL

GW29 Review
GW29: 60PTS! (AVG: 47PTS). Team Value: £107.3m! A solid score despite choosing the wrong captain. Injury to Alexis Sanchez and a long international break add a twist to the plans.
Upper 90 Studios Overall Rank dropped from 228,223 to 256,860.
Captain decision.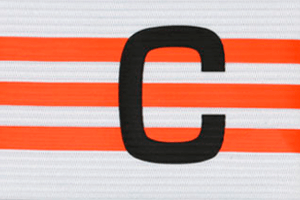 Once we narrowed it down to Lukaku, Sanchez and Sterling, every little factor factored into the final captain decision. We didn't like hearing Lukaku's words about Everton after refusing to sign a new contract. Although Sanchez had issues of his own! Some factors are less important, like early kickoff times and bad luck against a certain club. The way these myths help is to use them against the masses that are swayed by group-think! Luck is the one factor we can't control.
⚽️ The early kickoff can be an issue if there is little time for the players to recover.

---
The Good.
Romelu Lukaku (16PTS). ON FIRE! 🔥Another two goals and an assist! Lukaku came close with a few chances, but Everton were far from their best against a hard-working Hull side. The Tigers did well to keep it close until a straight red card for Huddlestone at 73 minutes changed the game. Hull were naive to continue pushing forward against Everton's counter-attacks and Koeman read it perfectly, throwing on Enner Valencia who scored after a great combination with Lukaku.
At 90 minutes, Lukaku still hadn't found the net! But he showed no mercy with two well-taken stoppage time goals taking his season tally to 21. Lukaku began the week by rejecting a contract offer and finished as Premier League's top scorer!
⚽️ Lukaku has nine goals and two assists in his last six games.

Alexis Sanchez (18PTS, captain). Our replacement for Harry Kane calmly slotted in at the far post to pull Arsenal level. Sanchez was targeted by West Brom throughout, but didn't do himself any favors complaining to the referee after every little nudge. A nasty tackle by James McClean finally took him out near the end of the half. Sanchez battled on with an ankle injury, linking up attacks until the 77th minute. His bravery helped him earn two bonus points, four crucial points for those who captained him!
⚽️ Sanchez has been involved in 27 goals in 27 Premier League games this season (18G, 9A).

Official FPL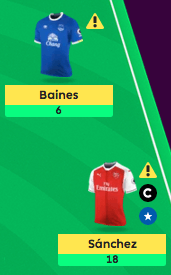 Leighton Baines (6PTS). As mentioned in last week's post, the official Fantasy Premier League website makes mistakes that can hurt thousands of managers. This time it was incorrectly making Baines an injury doubt for the entire week leading up to GW29! In the West Brom post-match conference, Koeman said Baines was not a problem for the weekend. A week later in the Hull pre-match conference, he said Baines was training and fit for GW29. For this reason, we suggested Baines as a top defender pick at home versus Hull. He repaid us with another clean sheet, a double alongside Seamus Coleman in a combined 12 points from two defenders!
If that wasn't strange enough, Baines was kept yellow after he completed the full match! They then changed Sanchez's status to yellow instantly which meant both were listed as doubts at the same time. How could they change one, but miss the other? The official FPL website misled nearly 60 thousand managers who sold Baines after seeing a yellow warning next to his name. 😳
⚽️ Everton have now kept 7 clean sheets in their last 10 games.
Other Standouts: Seamus Coleman, (6PTS), Dele Alli (7PTS)
---
The Bad.
Diego Costa (1PT). Theatrics against Man United in the FA Cup and now versus Stoke! Diego Costa is reverting to silly antics to get decisions from officials and this time it backfired with him earning a yellow card early on. With a different referee, Costa could've been sent off as he tussled with Stoke players. In his defense, he did work hard and missed Hazard's contribution in attack.
Alfie Mawson (-1PT). OWN GOAL. Bit harsh to list him here after an unlucky deflection off his shin put Bournemouth ahead. Swansea looked nervous defensively and short of ideas in attack, but credit to the Cherries who deserved the win.
---
Captain Verdict.
Were we wrong to captain Sanchez instead of Lukaku? Points are what counts, so in reality YES. But in order to maintain a winning-mentality and stay positive, we must accept that some things are out of our control. Nobody could've predicted the first-half injury to Sanchez or the red card for Hull.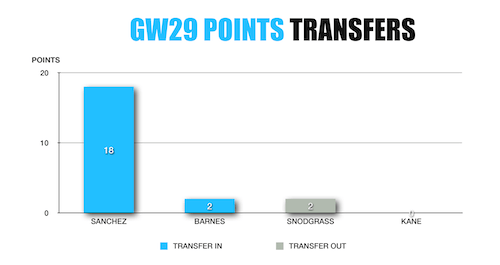 ---
FPL GW30

Team
Transfers: 1
Transfers OUT: Coleman ❌
Transfers IN: Walker ✅
Final GW30 Team: http://upper90studios.com/2016-17-fpl-gw30-final-team.png
Keep in mind there is an international break for key players before GW30 which increases the risk of injury, fatigue and rotation.
*Stay tuned to this blog. We'll post transfers and updates here or in the comments section.
---
FPL GW30

top cheats.
International break.
Key players in FPL will now shift their attention to their national teams, some playing twice before GW30. Gambling on early transfers has the added risk of injury during the break. As we approach the end of the season, the risk of injury and fatigue increases.
Our strategy for the international break is to wait things out and trust that the team is well set.
*More international games to come on Monday and Tuesday!
Coleman injury.
Awful news. Seamus Coleman has suffered a broken leg while playing for Ireland. Still stunned as he is one of our favorite defenders. Would trade a finish in the bottom 4 million if it meant he was ok. 🙁
Sanchez injury.
Sanchez played almost the entire second half after suffering an ankle injury, so it's hard to predict what the official diagnosis will be. Wenger said if the ligaments are damaged, he could miss international duty with Chile. With a typical ankle sprain, two weeks should be enough to recover in time for GW30.
This defeat is a massive blow for Arsenal and Wenger. Theo Walcott barely tried, Ramsey and Oxlade-Chamberlain were ineffective, and Welbeck struggled to get into the game. That put the pressure on Sanchez with one good ankle! When things get tough, some players take the easy way out letting the manager take the blame. We saw it last season with Chelsea, and now it could be Arsenal's turn.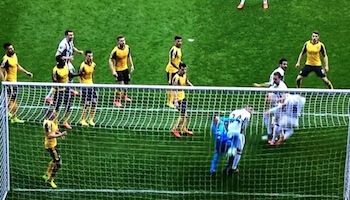 *UPDATE March 19. Wenger has reportedly agreed a 1-year contract extension. If true, this could be a boost for Arsenal players in FPL as they push for a Champions League spot.
*UPDATE March 20. Reports from Chile say Sanchez is in good condition and will play the World Cup qualifier against Argentina.
*UPDATE March 23. Sanchez played against Argentina and showed no signs of an injury.
*UPDATE March 28. Sanchez was involved in all three Chile goals, again showing no signs of injury. He scored the first, created the second and assisted the third. Looks set for the clash with Man City.
*UPDATE March 30. Wenger confirmed Sanchez is fit and available for GW30.
---
Full List
injuries.

Seamus Coleman suffered a broken leg while playing for Ireland. 😢
Gylfi Sigurdsson withdrew from the Iceland squad due to a minor injury. EDIT: Siggy is back in full training.
Raheem Sterling felt tightness in his back before and during the England game on Sunday. He was subbed at the hour mark. He should be available for GW30.
Manolo Gabbiadini is struggling with a groin injury and reports suggest Southampton hope to have him back for Manchester City GW33. Official FPL has him listed at 75% chance of playing, so we could use another update from Claude Puel. EDIT: Gabbi is ruled out for GW30, but has a chance midweek.
Diego Costa suffered an ankle injury in Spain training. Tests showed no significant damage, but he is a doubt for GW30. He's yellow-listed in FPL, 75% chance of playing. EDIT: Diego Costa made the bench for Spain but did not play against France.
Romelu Lukaku may have suffered a gash on his shin in a clash with Mignolet for Belgium. This is a rumor at this point and we need something more concrete. EDIT: Lukaku played the final 13 minutes against Russia on Tuesday. No major concerns ahead of the Merseyside derby.
Thibaut Courtois has a minor hip problem, but should be fit for GW30.
Phil Jones and Chris Smalling suffered toe and knee injuries respectively. EDIT: Jones, Smalling and Paul Pogba are set to miss GW30.
Adam Lallana suffered a thigh injury and could miss around a month.
Funes Mori was stretchered off with a serious knee injury while playing for Argentina. EDIT: Funes Mori is out for the season with knee ligament damage.
Michail Antonio is ruled out for GW30, but hopeful for GW31 after resuming light training.
Juan Mata is out for the season after groin surgery.
*List will be updated as we get new information.
**For injury news, a trusted source is @BenDinnery on Twitter. 😷
---

Green Lights
red flags.
Green Light: Jamie Vardy (11PTS). Three goals and one assist in his last three league games. Leicester have been on the rise since sacking Claudio Ranieri and they're also heading into the quarterfinals of the Champions League.
Green Light: Dele Alli (7PTS). Alli was brought down in the box for a penalty and chased the ball immediately – a sign of a true winner. He made no mistake burying the penalty, the first in his professional career.
⚽️ Alli has now scored 18 goals in all competitions this season.
Green Light: Heung-Min Son (2PTS). The only thing missing was a goal! Son led the line for Spurs in the absence of Kane and worked hard until his substitution at 74 minutes. He had so many chances to score that somehow didn't go in! The small concern is Pochettino giving Alli or Janssen a chance up top. UPDATE: Son completed 90 minutes with South Korea in Seoul on Tuesday, and Pochettino has benched Son after international duty in the past. If Janssen is out, Son's chances of starting increase.
Red Flag: Coming soon…
---
Players to Watch.
Diego Costa. Struggled against Stoke. His chances increase if Hazard recovers from a minor calf problem.
Chelsea defenders. No clean sheets in 6 games yet they're still pulling points! Cahill (8PTS), Luiz (7PTS) and Alonso (6PTS) collected crucial points this week. Chelsea own three of the top five defenders in FPL.
Romelu Lukaku. Two goals and an assist makes him nearly impossible to drop, but Everton have a shocking record against rivals Liverpool.
Everton defenders. Those with double Everton cover at the back should consider benching one to reduce the risk.
---
Price

rise and drop.
Here are our best price change predictions ahead of GW30!
Possible Price Rise: –
Possible Price Drop: –
Watchlist: De Gea, Valencia, Walker, Alonso, Hazard
---
Captain.
Alexis Sanchez is set as captain at the moment, but we could make an impulse switch to Sigurdsson before deadline.
Final GW30: http://upper90studios.com/2016-17-fpl-gw30-final-team.png
Stay up-to-date with our last-minute transfers and captain choice on Twitter or Facebook.
---
U90
mini league.
Rank
Team

GW

TOT

1
CheCheese LC
Anuwat Vaewraveewong
77
1694
2
Nyoritis FC
Oliver Wanyama
76
1669
3
Best in world
David Nicholson
56
1668
4
Santa Fe Cockroaches
Mick Jones
79
1662
5
KDBinho
Adnan Hajrulahovič
90
1654
6
Bells Ballers
Matthew Bell
51
1629
7
magpie36
Peter Kidd
85
1625
8
Kiazan FC
carl Williams
55
1622
9
Welsh Xavi
Simon Yu
80
1617
10
slap me, slap me
Ustaz Kedir
73
1612
---
Fantasy Premier League
strategy.
For the past 9 years, our team has finished in the top 1-2% of all players. 2014-15 was our best finish ever: Overall rank 13,126, top 0.4%. Our strategy is risky. We start slow and build team value by making 1-3 transfers each week. We save on goalkeepers and defenders and load up with expensive midfielders and forwards. By January, we can stack the full team with the most valuable players and come from behind to pull into the top 1-2% of all managers. See our previous finishes HERE.
Stay ahead of your competitors! Don't forget to subscribe to our email list at the top right of the page. We'll send you our weekly team prediction and best tips which you can use to tweak your team. Stay up-to-date with our last-minute transfers and captain choice on Twitter or Facebook.
---
Rate My Team.
Alexis Sanchez injury! International break strategy revealed. Leave us a comment and let's rate your GW30 team.
Good luck!
-Bruno