GW2 Points: 49PTS. Time to sell Kane? Why you need Manchester United players. League Cup warning! Plus green lights red flags, and our top FPL tips for GW3.
FANTASY PREMIER LEAGUE TEAM TIPS FOR GW3
FPL

GW2 Review
GW2: 49PTS. (AVG: 44PTS). This was not in the script! After a strong start on Saturday, we were quickly knocked down on Sunday with Spurs vs. Chelsea. How do we get out of a stuck situation?
Feeling stuck.
We committed to investing in Spurs cover despite the Wembley concerns, but the manner in which they were beaten by Chelsea was paralyzing. Not only did Kane blank again, but the defender we sold last week, Alonso, scored two incredible goals! After the shock subsided, having to completely destroy a new YouTube video that took hours to create, we did the only thing that feels right. We sped up – deliberately.
⚽️ Figure out the direction to go next and get moving.
---
The Good.
Henrikh Mkhitaryan (10PTS). MOTM! A change in plans on Tuesday led us to choose Mkhitaryan instead of Salah. The extra funds allowed us to upgrade squad depth as none of our bench defenders featured GW1. We were surprised and relieved to see Klopp bench Salah after Liverpool's involvement in the Champions League.
Against Swansea, Mkhitaryan shone as part of a thrilling midfield alongside Pogba, and he got his reward with less than 10 minutes remaining with a display of speed, technique and creativity. Two assists and one bonus point! We're grateful for the instant returns. 🙏
⚽️ Mkhitaryan has now provided four assists in two games this season.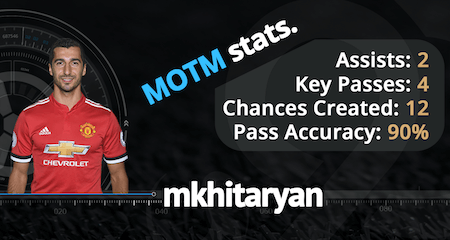 Ahmed Hegazi (8PTS). West Brom's most important player for the second consecutive game. We risked an early transfer on Sunday to beat Hegazi's price rise, and he rewarded us with yet another towering performance. Despite a cut to the eye early on and having to play with 10 men, Hegazi soldiered on to collect a clean sheet and two bonus points. But is he nailed on when McAuley and Evans return?
⚽️ Hegazi made a team-high 11 clearances in the win over Burnley.

Romelu Lukaku (12PTS, captain). Three goals in two matches! Lukaku had one of his typical quiet away games, but he doesn't need to be involved to pop in with a goal. He also has a knack for scoring at the end of games which could be crucial if teams press hard for long spells then tire late on. A blistering start to his United career. 👍
⚽️ Lukaku is averaging 9.5 points per game this season.

Other Standouts: Ben Foster (6PTS), Christian Eriksen (7PTS)
---
The Bad.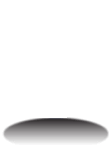 Harry Kane (1PT). A hard-working performance with nothing to show for. Kane came close with a few chances, striking the woodwork yet again, but his failure to find the net in August can't be ignored. More worrying than Kane's wastefulness was the way Tottenham gifted Chelsea the three points. After drawing level, it looked like there would only be one winner. Wave after wave of attack and what seemed like well over a dozen corners should've resulted in a comeback win for Spurs. Then a catastrophic error by Lloris and Wanyama punished them to a shock defeat that opened all sorts of questions about their winning mentality when it counts.
⚽️ Chelsea had two shots on target, both going in.
Marcos Alonso (16PTS). Sold him, scores twice. Last season we sold Alonso after a run of blanks, then the following week he scored twice AND kept a clean sheet! Something like 21 points last season, 16 points this year. Alonso's score completely flipped the script causing us to trash a YouTube video that took hours to create. 🙁 We could write a book on this recurring nightmare, but we'd rather focus on the positives and trust that our transfer strategy will pay off in the long-term. Apologies to those who sold Alonso after seeing our transfers last week.
Southampton defenders. A wasted clean sheet opportunity after a red card to Arnautovic. The Saints defenders lost their concentration to allow two typical predatory finishes from Javier Hernandez.
---
Kyle Walker.
*UPDATE Aug 21: Hang on! Kyle Walker (-2PTS) our third transfer in for GW2, has just been sent off in the first half. It's the first red card in his Premier League career, on his 200th appearance! Unreal timing.
The first yellow card was understandable. A bit high and dangerous despite no contact being made. But the second seemed harsh as he backed into the player who made a meal of it. As a result, Jesus was pulled at halftime and De Bruyne (2PTS) forced to play the second half down a man. 😡

Could Man City contest Walker's sending off? 🤔
New rule states that if a player dives or feigns injury leading to a dismissal, he can be punished retrospectively.
If the player is found guilty of deceiving the referee, the yellow or red card to the opponent can be rescinded.
⚽️ Will Kyle Walker be available for GW3?
*UPDATE Aug 22: It appears Kyle Walker will serve his one-match ban. According to FA rules, Man City cannot contest a second yellow card, only a straight red. Also, Calvert-Lewin did deceive the referee but contact was made which means it wasn't clearcut. Retrospective action under the new rule will likely only be taken if the incidents are viewed as clear-cut.
Here are some articles on the subject:
Calvert-Lewin and Agüero face no action under new FA simulation rules – Jamie Jackson
Bobby Madley is not good enough and this game was too big for him – Graham Poll
FA to introduce retrospective bans for diving or feigning injury – The Guardian
In FPL-terms, improving out team depth means at this moment we have cover for Walker. Ryan Bertrand was on our bench for GW3. However, it's early in the week and lots can still happen!
*UPDATE Aug 23: New replay angle shows Kyle Walker's shoulder made contact with Calvert-Lewin's chin. Calvert-Lewin did not feign injury or attempt to deceive the referee. Walker will miss GW3.
---
FPL GW3

Team
Latest GW3 team and transfers: http://upper90studios.com/fpl-latest-team/
**Two transfers confirmed before Sunday night's price changes. That's especially risky this week given the fixture warning below!
*UPDATE Aug 22: Two additional transfers confirmed! Might be "forced" to use the Wildcard if we get more surprises before deadline.
*Stay tuned to this blog. We'll post transfers and updates here or in the comments section.
---
FPL GW3

top cheats.
FA Cup and League Cup
Liverpool, Everton and Southampton are just three of the teams with a fixture between GW2 and GW3. Liverpool play in the Champions League on Wednesday then Arsenal on Sunday.
⚽️ Making early transfers could backfire as the chance of injury and rotation increases.
Check the League Cup & Europe Schedule below before making your GW3 transfers.
Download 

full size .png!
Manchester United.
Having scored four goals in one match only once in 2016-17, Manchester United have now smashed in four goals in their first two games! Their defense has been just as imposing with Matic shielding the back four. They have yet to concede a goal, and it gives Fantasy managers options in each position.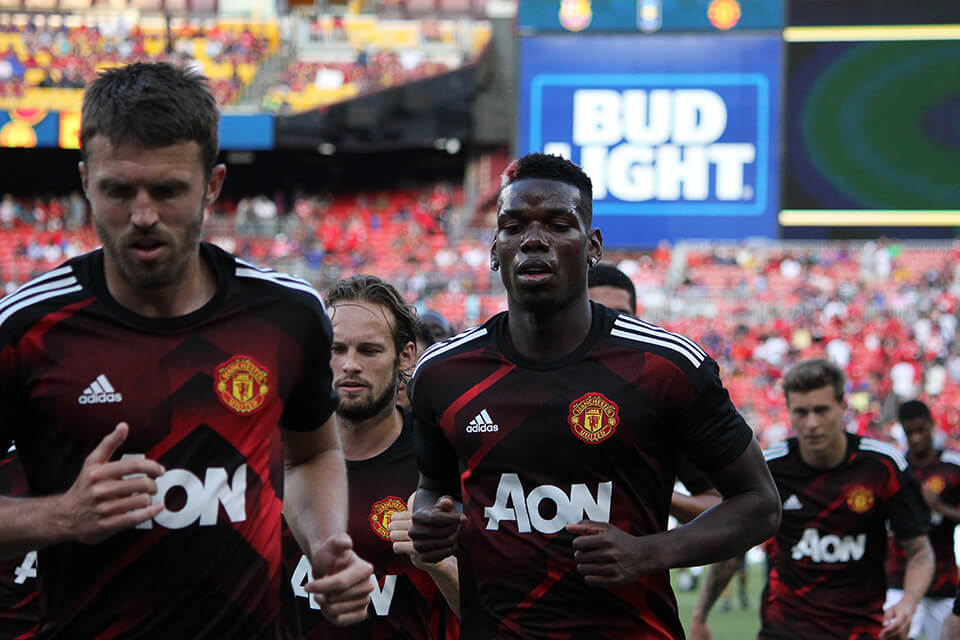 Swansea was their first real test. In the Premier League, there are no easy games.
Swansea were strong for 80 minutes, hard-working and smart in possession, but this could be an indication of more things to come from the Red Devils. As opponents press hard, they will eventually tire and get punished on the counter. Tactically, Lukaku's pace offers a new threat we didn't see last season with Zlatan. Both effective strikers, but the way they affect the dynamics of the attack is vastly different.
Top Four?
If Mourinho can find a way to unleash Martial's potential as he did with Mkhitaryan, teams will struggle to cope with their pace and trickery on the wings. But they're looking strong in all areas:
World-class goalkeeper in De Gea
Bailly and Valencia defensive core
Martial youth and pace on the wings
Pogba and Mkhitaryan creativity
Pure finishing from Lukaku
Is Manchester United aiming higher than a Champions League spot? More importantly, do you have enough United cover in your FPL squad? 🙂
---

Green Lights
red flags.
Green Light: Paul Pogba (15PTS). Highest-scoring midfielder GW2 with a goal, two assists and maximum bonus points. Pogba is becoming a different player since the introduction of Matic from Chelsea. The Serbian's tireless work gives Pogba freedom to attack and unleash his creativity, something we didn't see enough of last season.
⚽️ Pogba is averaging 11.5 points per game in 2017-18.
Green Light: Henrikh Mkhitaryan (10PTS). So many positives, but is Mkhitaryan nailed on? When Mourinho draws up the team sheet, he must find the right balance of players who can contribute with goals and assists – their biggest weakness last season. Things can change quickly in the Premier League, but for now we rate Mkhitaryan's chances of starting regularly about the same as De Bruyne's.
Green Light: Sadio Mané (8PTS). Hoffenheim defenders couldn't get anywhere near him, the only way to stop him was to foul him. When a player makes the step up to a bigger club, as Mané has done from Southampton to Liverpool, there is a danger that he will get complacent and waste the opportunity. Sadio is the perfect example of a player driven to improve every season. Big fan of his! 👏
Green Light: Ahmed Hegazi (8PTS). A man-mountain protecting Ben Foster's goal. And it's fine since both of them are in our squad! The question is what happens when McAuley and Evans return from injury? Manchester City have had two bids for Evans rejected. If he goes, it increases Hegazi's chances.
Red Flag: Charlie Daniels (1PT). "I thought we were very disappointing and I'm scratching my head as to why. We were very poor on the ball today and we now have Manchester City and Arsenal." – Bournemouth manager Eddie Howe.
Watch him score 20 points now! 😅
Red Flag: Harry Kane (1PT). Making Kane a red flag this week isn't as straightforward as it seems. He and Spurs looked dangerous and dominated Chelsea for long spells. Failure to take their chances and one costly mistake is not enough for us to give up on Kane. For now, he will remain in our red flags section throughout the month of August. Unless he scores.
---
Players to Watch.
Aaron Mooy (10PTS). Huddersfield's 2016-17 player of the season. Mooy might be playing a more advanced role this season which increases his points-scoring potential. They stand second in the table unbeaten after two games with green fixtures in the horizon.
Javier Hernandez (13PTS). A brace against Southampton despite the Arnautovic red card. Chicharito knows the league and has quality players around him to create chances – if they're available! With Arnie banned for three games, Chicharito's chances may depend on the fitness of Antonio.
---
Price 

rise and drop.
Here are our best price change predictions ahead of GW3!
Possible Price Rise: ?
Possible Price Drop: ?
FPL's price change algorithm appears to have changed this season. Players whose price should be changing after a significant number of transfers are now holding their price. How has Zaha's price fallen just £0.1m after over half a million transfers out? 🤔

Watchlist: Bailly, Mané, Jesé
---
Captain.
? is set as captain at the moment, but we could make an impulse switch to ? before deadline.
Final GW3: Coming soon…
Stay up-to-date with our last-minute transfers and captain choice on Twitter or Facebook.
---
U90
mini league.
Rank
Team & Manager

GW

TOT

1  
• Time for Salah •
Asad .
56
174
2  
cfc
akmal zakwan
62
164
3  
J13 Fc
jai future
73
162
4  
Del Bottled It
Andy Beadsley
62
158
4  
Knights XI
Lukka Singh
67
158
6  
Fc Koala
eldon kamilo
68
155
7  
Rawat fc
kashish rawat
73
155
8  
Men With Ven
Mark Campbell
67
153
9  
SteamRoom Fc
Dennis Kaloki
80
152
10  
Kircon Jaya United 1
fajar n
65
152
---
U90
free bonus.
Subscribe to our email list and receive the 2017-18 Fixture Difficulty Cheat Sheet!
*Click the image below.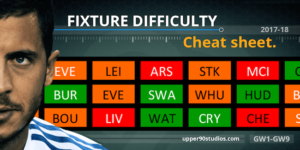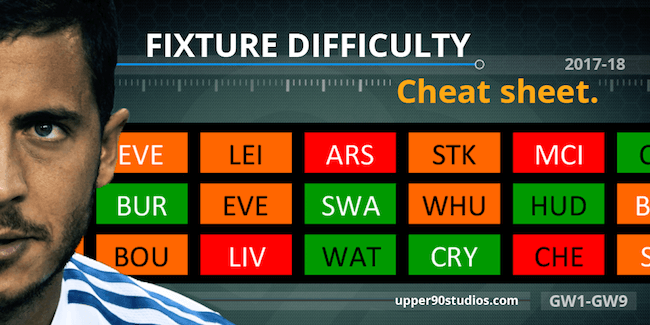 ---
Fantasy Premier League
strategy.
For the past 10 years, our team has finished in the top 1-2% of all players. 2014-15 was our best ever finish: Overall rank 13,126, top 0.4%. Our strategy is risky. We start slow and build team value by making 1-3 transfers each week. We save on goalkeepers and defenders and load up with expensive midfielders and forwards. By January, we can stack the full team with the most valuable players and come from behind to pull into the top 1-2% of all managers. See our previous finishes HERE.
Stay ahead of your competitors! Don't forget to subscribe to our email list at the top right of the page. We'll send you our weekly team prediction and best tips which you can use to tweak your team. Stay up-to-date with our last-minute transfers and captain choice on Twitter or Facebook.
---
Rate My Team.
Is it time to sell Kane? Check the League Cup & Europe Schedule before making your transfers. Leave us a comment and let's rate your GW3 team.
Good luck!
-Bruno