GW22 Points: 67PTS! Team Value: £105.4m! Diego Costa Triple Captain! Download the FA Cup and League Cup Schedule before transfers. Plus green lights red flags, and our top FPL tips for GW23.
FANTASY PREMIER LEAGUE TEAM TIPS FOR GW23
FPL

GW22 Review
GW22: 67PTS! (AVG: 46PTS). Team Value: £105.4m! Three transfers last week for a -8 hit. We benched two of those transfers and triple captained the other.
Big green arrows since using the Wildcard! 🙂
What took me so long?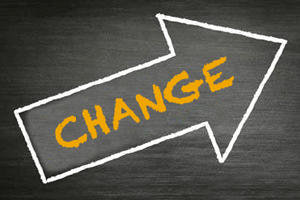 The biggest decision of the week was not a potential transfer or who to captain. It was sharing my full team. The pressure to disclose every bit of information each week doesn't feel right. I want the freedom to share as I please. Freedom inspires creativity and action. As soon as the shackles were released and I decided not to share the full team, I made a move on Diego Costa. Triple Captain! Then I realized my opponents (you reading this) could check how many transfers I've made on the U90 mini-league. So I left the league.
Apologies to those whose messages I didn't return. It's not easy especially on the night before deadline. The phone buzzes nonstop from midnight until 6:30am which is one hour before kickoff on Saturday here. "What is your final team? Transfers? Captain?" I thought sharing the full team would make me feel stronger. The more you give, the more you receive right? But it makes me feel weaker because I want to win. That's the truth. I'm not going to make up some excuse like I'm away from the internet tonight. I want to finish higher than you. It's as simple as that. It also goes against the spirit of the game as too many managers will have the same team. This blog is Fantasy Premier League Tips, not here's my full team, feel free to copy as close as you can with the funds available. I will gladly give my best advice – strategy developed over 9 seasons – and rate your team. But I will share my full team whenever I feel.
This is the first year where I disclosed my entire team and all the transfers, but it never felt right. It also coincided with the worst ever first half of a season. So I made a decision. You have the freedom to do the same. Make your own happiness a priority. -Bruno, Upper 90 Studios
PS: I also unfollowed the @OfficialFPL account on Twitter and muted at least 10 other FPL accounts. You should never be afraid to check social media for fear of what others are saying. Those who make me feel bad for my transfers or try to influence their followers for their own gain get the mute. 👋
⚽️ U90 mini-league continues with a prize for the winner.

---
Transfers.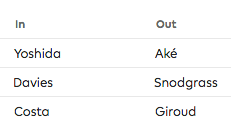 We made an early transfer to fix the Aké issue straight away, then received a boost with news that Giroud was fit to play. Our team was already well set for GW22, but we saw an opportunity to make the biggest move of the season. To sell Giroud for Diego Costa for a -8 hit and go all-in with the Triple Captain Chip.
The Good.
Diego Costa (18PTS triple captain). We transferred in Costa despite all the circus surrounding his bust-up with Conte. Conte said all the right things in the press conference and we couldn't resist. Benching Costa when available would only create more controversy for Chelsea – the opposite of what Conte wants. He wants things nice and quiet, no negative headlines so he can glide his team to the finish line. This also marked Costa's 100th appearance for the club.
The hardest part was selling Giroud because he was our captain! We sold our captain for a triple captain, and this transfer required a -8 hit to raise funds. This is how we justified it:
Giroud one goal 6PTS. Captain = 12PTS
Costa one goal and an assist 12PTS. Triple Captain = 36PTS-8PTS=28PTS
Costa scored one, but we're grateful that he actually played. No complaints! 👍
Another reason for getting Costa was that many managers who sold him couldn't afford to buy him back easily because they bought him early on at a much lower price. We used this as an advantage – team value strategy allowed us to pull off the transfers with £0.1m in the bank. Team Value: £105.4m
Hope that doesn't come off as too cold! A few of our FPL friends are struggling right now, but anything can happen with many games to come.
⚽️ Costa has 52 goals and 17 assists in 100 appearances for Chelsea.

Chris Brunt (13PTS). NYOM! Brunt's points-scoring potential hinges on Nyom playing at left-back which allows Brunt to get forward. Two goals in consecutive home games and West Brom's fixtures are green: Middlesbrough, Stoke, West Ham, Bournemouth, West Ham, Crystal Palace.
⚽️ Brunt has been involved in 6 goals in his last 5 home games. (3G, 3A)

Alexis Sanchez (8PTS). Stoppage time penalty and game-winning goal which earned him one bonus point. We're curious to see who Wenger will start up front when Walcott returns. Giroud (2PTS) isn't guaranteed a starting spot as Arsenal are quicker and more fluid with Sanchez leading the line.

⚽️ Sanchez has scored 15 goals and 7 assists in 21 games this season.
Other Standouts: Leighton Baines (6PTS), Dele Alli (6PTS), Harry Kane (5PTS)
---
The Bad.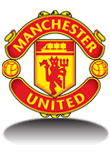 Zlatan Ibrahimovic (2PTS). Uncharacteristic performance from Zlatan. Chance after chance to take a shot in the box and he elected to pass. As mentioned on last week's blog post, Stoke has become a bogey team for United. They worked harder and bullied them with 11 Charlie Adams on the field. It's now becoming clear that United have a problem converting their chances. 25 shot attempts! To finish in the top four they will need players from every position to contribute goals, not just Ibra and occasionally Juan Mata. 😡
Paul Pogba (2PTS). Better than against Liverpool, then again, that was rock bottom. #Pogba 🐢 needs to step up his game fast. This isn't Serie A where you have time on the ball. Pogba dwells on it for too long and opponents are starting to feel his languid style so they pressure him instantly. Part of the problem against Stoke was Fellaini playing higher up the pitch and no Carrick which dropped Pogba a bit deeper. We may give him one last chance against Hull City at Old Trafford because they concede goals for fun.
---
Top Players Blank.
❌ Aguero, Lukaku, Zlatan, Pogba, Valencia, De Gea, Eriksen, Giroud, Bellerin, Hazard, Coutinho, Lallana
It's unreal that the players above would all blank in a single week. This would never happen in previous seasons. We left out Vardy, Mahrez, Payet, Silva and Toure – top players last year. 😳
---
Transfers Verdict.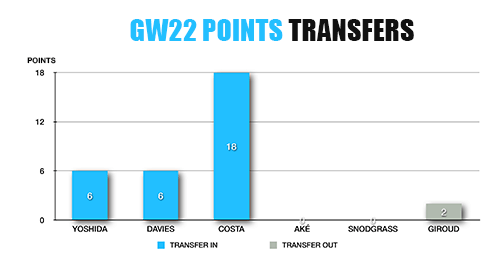 ---
GW22 Points.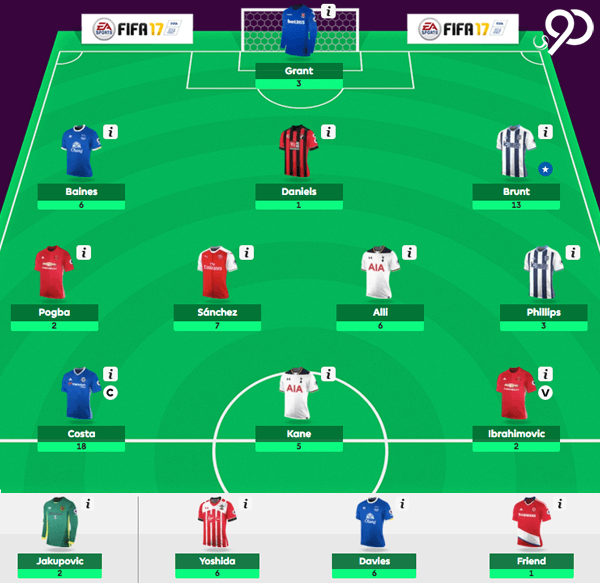 FPL GW23

Team
Transfers: None (yet).
Transfers OUT: ❌
Transfers IN: ✅
Final GW23 Team: http://upper90studios.com/2016-17-fpl-gw23-final-team.png
😷 For the latest on injuries, a trusted source is @BenDinnery on Twitter.
-Possible Transfer- Daniels to Alonso
Charlie Daniels (1PT). Bournemouth are leaking goals at the moment. The good news is Francis has already served his 3-match ban and will return for GW23. Crystal Palace at home next is another good reason to give Daniels one last chance. Palace have dropped into the relegation zone.
Marcos Alonso (6PTS). Earning points like a winger, but listed as a defender! Alonso has finally delivered on his promising displays and we regret selling him a few weeks ago. The concern is he now faces two attacking teams in Liverpool and Arsenal.
*We can see Daniels outscoring Alonso this week. The -4 hit isn't making sense.
-Possible Transfer- Pogba to Antonio
Paul Pogba (2PTS). His FPL potential depends on how Mourinho shapes up the midfield. Alongside Carrick and Herrera, Pogba has the freedom to venture forward and create chances. If Fellaini plays more advanced than Pogba once again, we'll sell him at the final whistle. The £0.1m price buffer buys us some time. We can allow him to drop in price once before it affects our team value.
Click the Transfers Tab > List View to check Current Price versus Selling Price.

Michail Antonio (5PTS). West Ham won't be able able to hold onto him for much longer. Has everything you look for in a Premier League player. He's quick, strong, chips in with assists and scores goals. The concerns are he can be somewhat hot or cold and West Ham have Manchester City next.
*UPDATE JAN 22: Thinking of waiting on transfers because of the long break and cup games before GW23. The major issues were fixed last week so the team is well set. Also, both Alonso and Antonio have tricky fixtures while Daniels and Pogba have two excellent home games. The -4 hit is difficult to justify.
*Stay tuned to this blog. We'll post transfers and updates here or in the comments section.
---
FPL GW23

top cheats.
FA Cup and League Cup
Manchester United and Liverpool play twice before GW23. Careful transferring players from teams who play midweek games as it increases the risk of injury and rotation.
Check the FA Cup and League Cup Schedule below before making your GW23 transfers.
Download

full size .png!
---
Fixture Difficulty Cheat Sheet
2016-17 Fantasy Premier League Fixture Difficulty Cheat Sheet GW21-GW28
Tips on how to use it: http://upper90studios.com/2016-17-fantasy-premier-league-fixture-difficulty-cheat-sheet-gw21-gw28/
Download

full size .png!
Download
---

Green Lights
red flags.
Green Light: Roberto Firmino (14PTS). Easily Liverpool's best player against Swansea. He looked sharp and deserved the goals. With Coutinho back in the lineup, Firmino moves up top as a striker. The worry is Liverpool have two important cup games before playing leaders Chelsea.
Green Light: Harry Kane (5PTS). Even though Tottenham were fortunate to come out of the Etihad with a draw, Kane has been looking sharper. He's also forming one of the deadliest partnerships in the Premier League with Dele Alli. Up next? Sunderland.
Red Flag: Pedro (3PTS). Blanked at home against Hull and subbed off at 70 minutes. With Costa back in the picture, Pedro will split starts with Willian.
---
Players to Watch.
Maya Yoshida (6PTS). Transferred him in for Nathan Aké early last week because Fonte was frozen out of the team. Fonte has moved to West Ham which gives Yoshida a great chance to solidify his place at center back. One concern is van Dijk came off injured after a dirty tackle from Jamie Vardy.
Tom Davies (6PTS). Our other transfer last week! Davies is showing real promise at Everton with one goal and two assists in his last three games. As mentioned by a commenter and Everton fan last week, Davies can play a deeper role, so this could be a temporary patch of form. For now, we're grateful to have a 90 minute player as the first attacking sub. At least until the AFCON ends!
Tom Carroll (5PTS). Pointed out by a commenter below. Awesome debut for Swansea with the cross of the season! Swansea are starting to play well again, so we can look at their players for options. At £4.2m, Carroll is a great bargain in the midfield.
Jermaine Defoe (2PTS). At first it may seem easy to sell Defoe because he has Spurs next. But he'll want to show up his former club and will put in a top performance.
---
Price

rise and drop.
Here are our best price change predictions ahead of GW23!
Possible Price Rise: Coleman, Holgate, Davies, Firmino, Antonio, Alli, Eriksen, Kane, Costa
Possible Price Drop: Aké, Holebas, Allen, Lallana, Hazard, Benteke
Watchlist: Alonso, Antonio, Eriksen, Firmino, Sigurdsson, Lukaku
---
Captain.
? is set as captain at the moment, but we could make an impulse switch to ? before deadline.
Final GW23 Team: http://upper90studios.com/2016-17-fpl-gw23-final-team.png
Stay up-to-date with our last-minute transfers and captain choice on Twitter or Facebook.
---
U90
mini league.
Leaders After Gameweek 22
Rank
Team & Manager

Round Score

Total Points

1
The Brew Crew
Calamity Jane
61
1294
2
CheCheese LC
Anuwat Vaewraveewong
67
1288
3
Santa Fe Cockroaches
Mick Jones
65
1276
4
Nyoritis FC
Oliver Wanyama
41
1258
5
•Gûnñer§•
Ricardo Khalid
61
1249
6
Jwvak
Kamin Tohari
48
1247
7
Bells Ballers
Matthew Bell
44
1242
8
Village Idiots
Zachary Longacre
51
1229
9
magpie36
Peter Kidd
64
1228
10
Ragtag Ratbags
Eamon Gilmour
62
1223
---
Fantasy Premier League
strategy.
For the past 9 years, our team has finished in the top 1-2% of all players. 2014-15 was our best finish ever: Overall rank 13,126, top 0.4%. Our strategy is risky. We start slow and build team value by making 1-3 transfers each week. We save on goalkeepers and defenders and load up with expensive midfielders and forwards. By January, we can stack the full team with the most valuable players and come from behind to pull into the top 1-2% of all managers. See our previous finishes HERE.
Stay ahead of your competitors! Don't forget to subscribe to our email list at the top right of the page. We'll send you our weekly team prediction and best tips which you can use to tweak your team. Stay up-to-date with our last-minute transfers and captain choice on Twitter or Facebook.
---
Rate My Team.
Diego Costa triple captain! Check the FA Cup and League Cup Schedule before making your transfers. Leave us a comment and let's rate your GW23 team.
Good luck!
-Bruno