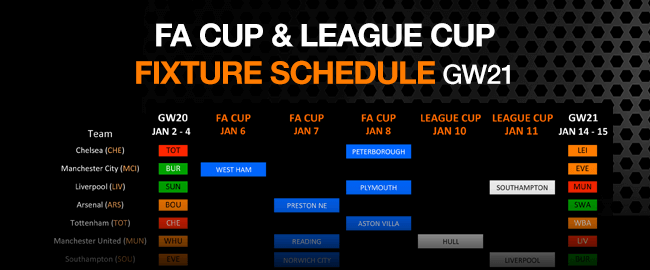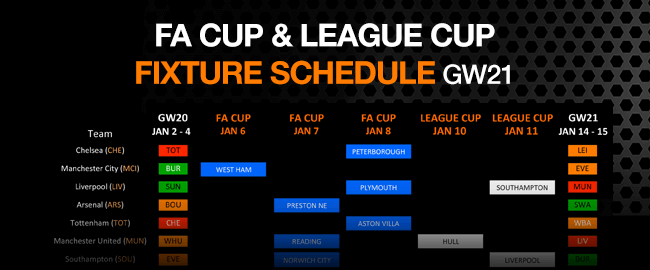 GW20 Points: 76PTS! Team Value: £104.5m. Wildcard success! Chelsea collapse, Dele Alli 🔥 Download FA Cup & League Cup Schedule. Plus green lights red flags, and our top FPL tips for GW21.
FANTASY PREMIER LEAGUE TEAM TIPS FOR GW21
Wildcard review
FA Cup & League Cup Schedule
Fixture Difficulty Cheat Sheet GW21-GW28
FPL

GW20 Review
GW20: 76PTS! (AVG: 49PTS). Team Value: £104.5m. Not a home run, but it feels like a fresh start after the Wildcard. We now have an actual defense, rotation options on the bench, and a team value boost.
Upper 90 Studios sneaks into the top 1 million rank for the first time since GW10! 🙂
Betting big.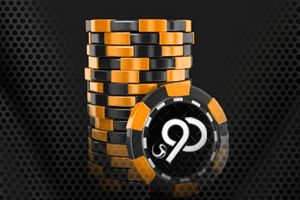 We've had so many set backs in FPL this season, that it felt like our team was just drifting aimlessly. We tried different strategies such as captaining template players versus differentials. Nothing worked! So we pulled out the big guns and ditched 10 players. Key players we typically trust such as Hazard, De Bruyne and Ozil have gone. We're letting go of previously effective strategies and exploring new ideas. We bet bigger after 10 red arrows in the last 12 Gameweeks.
⚽️ U90 climbed 346k places in the overall rank.

---
The Good.
Leighton Baines (15PTS). GOAL! After finding out Alonso was struggling with an ankle problem, we took a late risk on Baines. As mentioned in last week's post, we saw an opportunity against Southampton who have been shaky defensively and had the least rest of all the clubs in the festive period. Baines cooly slotted his lucky 13th Premier League penalty and collected all 3 bonus points. Massive 15pts!
⚽️ Baines is averaging over 9pts per game in his last 3 games.

Chris Brunt (8PTS). GOAL! Chris Brunt delivered instantly with a powerful header from Phillips's corner. Brunt scored more points in his debut than Amat in his last eight games!
⚽️ West Brom have scored 3+ goals in a game five times this season.

Dele Alli (15PTS). The most important goals he'll ever score in his career. And that's not just because we brought him in with the Wildcard! 🙂 Alli is making dangerous runs into the box and is never afraid to shoot. He has all the qualities we look for in an FPL midfielder. Two goals, maximum bonus!
⚽️ Alli has 7 goals in his last 4 PL games, including 3 consecutive braces.

Matt Phillips (9PTS). Another two assists and a bonus point. Hard to believe, but West Brom have scored more goals at home than Manchester City this season! Such a headache for opposing managers to watch their team play well, then concede from a Pulis set piece. Phillips's record against the better teams isn't the greatest, but his deliveries from corners make him a must-have in FPL.
⚽️ Only De Bruyne (9) has more assists this season than Phillips (8).

Other Standouts: Zlatan Ibrahimovic (8PTS), Alexis Sanchez (7PTS), Lee Grant (6PTS)
---
The Bad.
Hector Bellerin (0PTS). Nightmare first half! Burned by Daniels for the first goal and his next contribution was to pick up a yellow card. Bournemouth continually exploited the space in behind as Bellerin ventured forward, and Arsenal were fortunate to go into halftime down by 3 goals. They did show courage to fight back for a draw, but this is unacceptable from a premium defender in FPL! 😡
---
Wildcard verdict.
Mesut Ozil (0PTS). For the first time this season, an injury doubt we sold actually missed out! Recently, we dropped Daniels and Shawcross due to injury concerns, then they magically recovered to score big points. We are thankful for the turn of luck and wish Ozil a speedy recovery. 🍀
Cedric Soares (1PT). Played 5 minutes before coming off injured.
Marcos Alonso (1PT). We sold him for two reasons. He was an injury doubt, and we were worried Chelsea would suffer a blip during the next run of fixtures. Chelsea's defense couldn't cope with Dele Alli, Alonso conceded two goals and was yanked by Conte at 64 minutes for a 1-point return.
Nathan Aké (1PT). Difficult fixture against Arsenal, so we benched him. Had we kept our goalkeeper and defenders from GW20, we would've scored 3pts instead of 29pts from our back line! 😳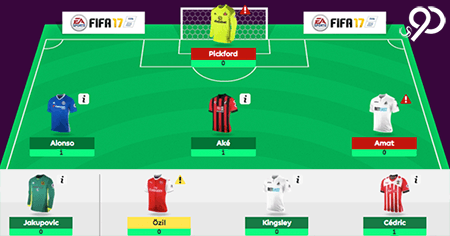 Did not play GW20:
Jordan Pickford (0PTS)
Eldin Jakupovic (0PTS)
Jordi Amat (0PTS)
Stephen Kingsley (0PTS)
Mesut Ozil (0PTS)
Victor Anichebe (0PTS)
Wildcard Transfers Points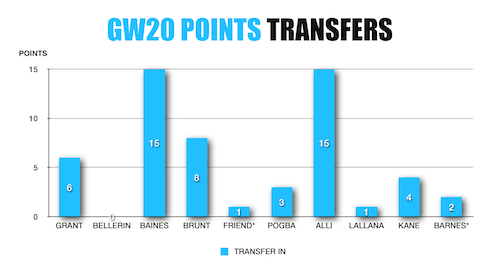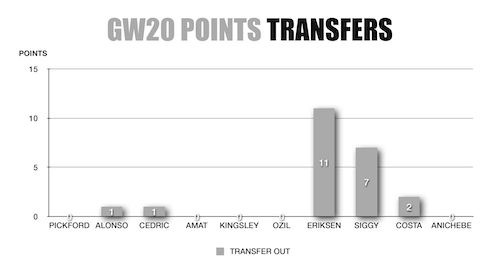 ---
FPL GW21

Team
Transfers: 3 (-8 hit)
Transfers OUT: Bellerin, Lallana, Barnes ❌
Transfers IN: Daniels, Snodgrass, Giroud ✅
Final GW21 Team: http://upper90studios.com/2016-17-fpl-gw21-final-team.png
*Stay tuned to this blog. We'll post transfers and updates here or in the comments section.
Bellerin to Daniels
Hector Bellerin (0PTS). Part of the reason for bringing in Bellerin was his favorable fixture list. Then he concedes 3 against Bournemouth! Arsenal could be more vulnerable at the back without Coquelin shielding the back four, Elneny is off to AFCoN and Koscielny limped off. 😡
Charlie Daniels (11PTS). Big fans of Daniels! He was on penalties last year and featured often in our team. One goal and an assist, but at one point before Sanchez's goal Daniels was on 18PTS! Fixtures look good and his price should sky-rocket.
⚽️ Transfer confirmed on Tuesday before price changes. (Daniels +£0.1m)
Plan A.
-Possible Transfer- Lallana to Snodgrass
Adam Lallana (1PT). As feared, Henderson's absence restricted Lallana in attack. His only real opportunity was a shot attempt in the dying seconds. Liverpool have two cup games before Manchester United who are unbeaten in their last 13 games. One positive for Lallana is his price is on the rise.
Robert Snodgrass (10PTS). One of our "green lights" last week, Snodgrass bagged a goal and maximum bonus points in another Hull defeat that cost Phelan his job. Snodgrass is one of the best free kick takers in the league and we'd be happy to bring him aboard. Word of note, Hull play twice before GW21 and you don't want to see the nightmare fixtures that follow.
Fixture Difficulty Chart: 2016-17 Fantasy Premier League Fixture Difficulty Cheat Sheet GW21-GW28
-Possible Transfer- Barnes to Giroud
Ashley Barnes (2PTS). Someone has to be sacrificed.
Olivier Giroud (15PTS). He's on fire! 🔥 Giroud was instrumental in their comeback, directly involved in all three goals. Arsenal have an excellent run of games which might favor their attackers more than defenders. They'll miss Coquelin shielding the back four, Elneny is off to AFCoN and Koscielny limped off. The big question is what happens when Walcott returns?
⚽️ Giroud has three goals and two assists in his last three games.
Plan B.
-Possible Transfer- Lallana to Eriksen
Adam Lallana (1PT). See above.
Christian Eriksen (11PTS). Awesome against Chelsea. Two brilliant assists and many opportunities to score. The worry is tripling up on Spurs in attack.
---
*UPDATE Transfers Confirmed!
Plan A.
Bellerin to Daniels. Confirmed early in the week to beat the price rise. Not the best fixture for Daniels with Ake leaving for Chelsea and Francis being suspended. Bellerin is injured.
Lallana to Snodgrass. Liverpool head to Old Trafford with two draws, one defeat and two goals scored in their last three games in all competitions. We could be seeing the effects of the high-press during the busy fixtures. Snoddy is a top pick at least in the short term.
Barnes to Giroud. Barnes was a bench filler. Walcott is out injured which means Giroud should start. He also signed a new contract and will want to prove his worth.
Final GW21 Team: http://upper90studios.com/2016-17-fpl-gw21-final-team.png
---
FPL GW21

top cheats.
FA Cup and League Cup
Manchester United and Liverpool are just two of the teams that play twice before GW21! Liverpool play in the FA Cup on the 8th, League Cup versus Southampton on the 11th, then Man United on the 15th.
*UPDATE Jan 8: Liverpool's 0-0 draw against Plymouth means they've now added a long midweek trip for the FA Cup replay on the 17th, two days after United.
Check the FA Cup and League Cup Schedule below before making your GW21 transfers.
Download

full size .png!
FA Cup Review
Liverpool drew 0-0 at home to League Two side Plymouth in the FA Cup. It was the same result for Crystal Palace and Sunderland. This is the worst possible scenario as they're now forced to play a replay. The added fatigue decreases their players' points scoring potential.
For Fantasy managers, it's fantastic news when teams are knocked out early as those players will have added rest and less chance of injury.
Knocked out of the FA Cup:
West Ham
West Brom
Stoke
Swansea
Bournemouth
Everton
Arsenal squeaked out a win thanks to a late Giroud goal. Manchester United and Man City were convincing with emphatic 4-0 and 5-0 wins respectively. Chelsea won 4-1 despite having John Terry sent off. Dele Alli came on for the last 30 minutes and Tottenham scored twice to beat Aston Villa 2-0.
---
Fixture Difficulty Cheat Sheet
2016-17 Fantasy Premier League Fixture Difficulty Cheat Sheet GW21-GW28
Tips on how to use it: http://upper90studios.com/2016-17-fantasy-premier-league-fixture-difficulty-cheat-sheet-gw21-gw28/
Download

full size .png!
Download
---

Green Lights
red flags.
Green Light: Zlatan Ibrahimovic (8PTS). Like Aguero, Zlatan doesn't need many chances to score goals. Manchester United are on an excellent winning run, but have two cup games before GW21. His points scoring potential increases if Mourinho rests him for at least one of the games before Liverpool. Zlatan has 9 goals and 4 assists in his last 10 games.
Red Flag: Diego Costa (2PTS). Reported bust-up with Antonio Conte which has seen Costa dropped from the squad! Costa posted a cryptic message on Instagram showing his love for Chelsea which makes things even more confusing! Rumors that Chelsea received an offer from China which would've made Costa the highest paid player in the world. Chelsea refused to sell and Costa retaliated by claiming he had an injury which was questioned by the team doctors. Whatever the outcome, this is the last thing Chelsea need at the halfway point of the season. 😳
---
Players to Watch.
George Friend (1PT). Came on as a sub and missed out on Boro's clean sheet by 3 minutes! Friend was close to scoring and put in dangerous crosses that should've been put away. He has to start GW21, otherwise there's something wrong with Karanka like with Phelan not giving Jakupovic a chance.
Robert Snodgrass (10PTS). Great anticipation to get at the end of a difficult cross for the goal. Always a threat from set pieces. Even though Hull play Bournemouth at home next, Snodgrass has an added risk because he may play twice before GW21.
After GW21, his fixtures turn for the worse:

Hector Bellerin (1PT). Picked up an injury training and is a doubt for GW21. We sold him for Daniels!
Maya Yoshida (1PT). Jose Fonte put in a transfer request and is set to leave. At a low price of £4.2m, Yoshida becomes an option. The problem is Southampton lost their last 3 games conceding 9 goals!
Pedro (1PT). Rotation risk with Willian (1PT) who was unfairly dropped after scoring twice on GW19.
---
Nathan Aké (1PT). Recalled early by Chelsea from his loan spell at Bournemouth. What does this mean for FPL managers who own him?
They get Chelsea defensive cover at a bargain price of £4.4m. If you have other priorities or already made transfers this week, it might be worth keeping him in case he plays GW21, possibly even GW22. Alonso lacks pace in the wingback position, and Aké can also play at center back which puts Gary Cahill at risk.
Those who own him and now have 4 Chelsea players will be forced to sell one of their Chelsea players before making more transfers. But they can play 4 Chelsea players which is actually pretty cool, almost like a loophole in the rules. ✅
If he doesn't play GW21-GW22, check your priorities such as starting lineup strength. Bench depth becomes more important in the second half of the season, so we recommend players who play 90 minutes regularly. If Aké doesn't get consistent starts and you need someone in that role, sell.
What if you're on a Wildcard? 🚨
It's impossible to know whether Aké will play. If your team is well set, you must decide if it's worth seeing if he'll play or setting your team with someone who's nailed on in the long run. Another factor to consider is his low price which frees up funds for other positions.
For now, the answer to Aké is to keep him.
*Thanks to commenter yik below for the updates. 👍
---
Price

rise and drop.
Here are our best price change predictions ahead of GW21!
Possible Price Rise: Baines, Phillips, Alli, Snodgrass, Defoe
Possible Price Drop: Ozil, Zaha, Walcott, Mane, Capoue, Hazard, Anichebe, Benteke
Watchlist: Snodgrass, Eriksen
---
Captain.
Zlatan Ibrahimovic is set as captain at the moment, but we could make an impulse switch to Kane before deadline.
Final GW21 Team: http://upper90studios.com/2016-17-fpl-gw21-final-team.png
Stay up-to-date with our last-minute transfers and captain choice on Twitter or Facebook.
---
U90
mini league.
Leaders After Gameweek 20
Rank
Team & Manager

Round Score

Total Points

1
The Brew Crew
Calamity Jane
54
1170
2
Bells Ballers
Matthew Bell
90
1140
3
CheCheese LC
Anuwat Vaewraveewong
66
1127
4
Santa Fe Cockroaches
Mick Jones
57
1120
5
Nyoritis FC
Oliver Wanyama
77
1115
6
magpie36
Peter Kidd
57
1104
7
United Red Devils
Tomasz Podstawny
49
1102
8
•Gûnñer§•
Ricardo Khalid
74
1098
9
Bold Move Cotton
Andrew Bryson
52
1097
10
Pittsburgh Maulers
Kurt Petro
67
1096
---
Fantasy Premier League
strategy.
For the past 9 years, our team has finished in the top 1-2% of all players. 2014-15 was our best finish ever: Overall rank 13,126, top 0.4%. Our strategy is risky. We start slow and build team value by making 1-3 transfers each week. We save on goalkeepers and defenders and load up with expensive midfielders and forwards. By January, we can stack the full team with the most valuable players and come from behind to pull into the top 1-2% of all managers. See our previous finishes HERE.
Stay ahead of your competitors! Don't forget to subscribe to our email list at the top right of the page. We'll send you our weekly team prediction and best tips which you can use to tweak your team. Stay up-to-date with our last-minute transfers and captain choice on Twitter or Facebook.
---
Rate My Team.
Wildcard jackpot! Chelsea collapse? Dele Alli! Check out the FA Cup and League Cup Schedule before making your transfers. Leave us a comment and let's rate your GW21 team.
Good luck!
-Bruno