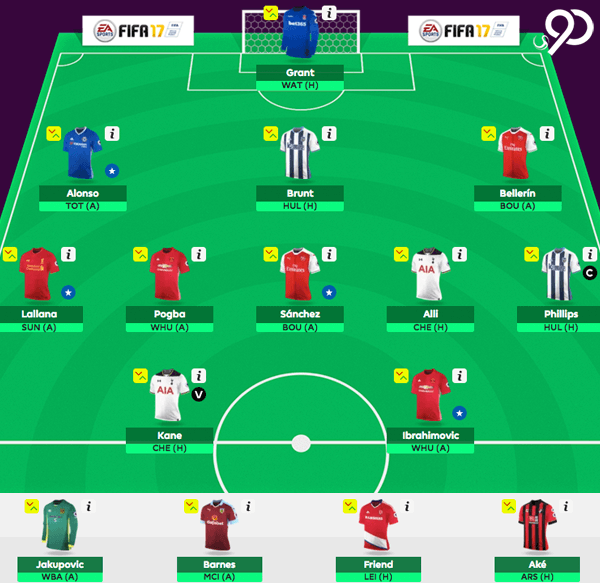 GW19 Points: 51PTS. (AVG: 45PTS). Wildcard active! 🚨 Ringing in the new year with 10 transfers. Costa out, Kane In? Plus green lights red flags, and our top FPL tips for GW20.
FANTASY PREMIER LEAGUE TEAM TIPS FOR GW20
FPL

GW19 Review
GW19: 51PTS! (AVG: 45PTS). Small green arrows, we'll take it! Red arrows in 10 out of the last 12 Gameweeks is enough. We have to believe that 2017 will be the biggest FPL comeback ever! 🙂
New Year's resolution.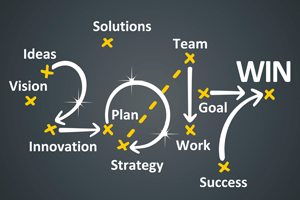 Even though maintaining a Fantasy blog isn't "work" in the traditional sense, it can be challenging and time-consuming. It's ok to change your level of commitment without giving up, so bear with me if the posts arrive at a more relaxed pace. 2016 was awesome. I never expected the positive words when things went sour, which was often! I'd like to thank all the friends in the comments section, email or Facebook for connecting with me and sharing your ideas. Wish you a Happy New Year starting with green arrows on GW20! -Bruno
⚽️ Should we bring in the New Year with 10 transfers?

---
The Good.
Matt Phillips (13PTS). It's been difficult to assess Phillips having faced Chelsea, Man United and Arsenal in his last four games. Against a strong Southampton defense, Phillips rewarded us with a goal, assist and maximum bonus points! Up next? Hull at home. 🙂
⚽️ Phillips has 4 goals and 5 assists in his last 9 league games.

Nathan Aké (8PTS). The decision to hold onto Aké paid off with an away clean sheet. Aké's style gives him a great chance for bonus points and at £4.4m he's one of the best bargains this season. The problem is Bournemouth face Arsenal next!
⚽️ Aké is averaging 8 points in his last 3 starts.
Other Standouts: Alexis Sanchez (6PTS), Diego Costa (6PTS), Zlatan Ibrahimovic (5PTS)
The Bad.
Christian Eriksen (2PTS). Not really his fault. Dembele was rested which meant a deeper role for Eriksen with Kane, Alli and Son up top. To top it off, Kane was on a hat-trick, so he ever-so-gently shrugged Eriksen out of the way for free kicks. Ouch. 🙁
Mesut Ozil (0PTS). Didn't feel well after New Year's Eve. Big decision on whether to keep him with the extra rest for GW20, or risk him missing out again.
---
FPL GW20

Team
Transfers: 10* (Wildcard Active)
Transfers OUT: Pickford, Alonso, Cedric, Amat, Kingsley, Sigurdsson, Ozil, Eriksen, Anichebe, Costa ❌
Transfers IN: Grant, Bellerin, Baines, Brunt, Friend, Lallana, Pogba, Alli, Barnes, Kane ✅
Final GW20 Team: http://upper90studios.com/2016-17-fpl-gw20-final-team.png
*More transfers possible before deadline.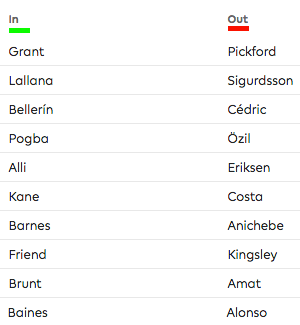 Pickford to Grant
Jordan Pickford (0PTS). 😷 Gutted for Pickford who has been ruled out for two months after straining his ACL. It's time to cash out on a profit.
Lee Grant (1PT). Made some fantastic saves, but Chelsea were far too strong. At £4.3m, Grant allows us to invest funds in other positions.
Cedric to Bellerin
Cedric Soares (0PTS). ❌ Didn't play, can't rely on him to start consistently. Southampton are suffering a blip defensively and their best defender van Djik is suspended. Rumors both van Dijk and captain Jose Fonte could be on their way out in January.
Hector Bellerin (8PTS). Arsenal are looking solid at the back and Bellerin is one of the best attack-minded defenders in FPL. Great run of fixtures.
Amat to Brunt
Jordi Amat (0PTS). ❌ The worst defender in FPL. The only reason we had him in our side was his price. He was one game away from avoiding a suspension, but he couldn't resist the yellow card.
Chris Brunt (2PTS). Excellent from set pieces in a team that specializes in them. West Brom are coming off a big win over Southampton and have Hull at home next.
Kingsley to Friend
Stephen Kingsley (0PTS). ❌ Didn't even make the squad this week. He doesn't feature often enough which is key in the busy period.
George Friend (1PT). Difficult fixture against United GW19, but he did enough in attack for us to bring him in. Hope he retains the starting spot!
Sigurdsson to Lallana
Gylfi Sigurdsson (2PTS). Huge fans of Siggy, but we can't bet on the worst team in the league. Swansea are a mess with comical defending and inexcusable performances in front of their own fans.
Adam Lallana (6PTS). Liverpool were better than Manchester City in all areas and fully deserved the three points. Lallana's cross for Wijnaldum's goal means he has now returned 4 goals and 2 assists in his last 5 games. We're also happy to ride his price rise wave as our team value needs a boost. One concern is Henderson limped off with a heel problem. Hopefully it doesn't push Lallana into a deeper role.
⚽️ Grant and Lallana transfers confirmed on Saturday before the price changes.
Ozil to Pogba
Mesut Ozil (0PTS). 😷 Missed GW19 with the flu and Wenger isn't sure whether he'll play GW20. Great player, but when things don't go Arsenal's way, Ozil disappears.
Paul Pogba (6PTS). Excellent runs into the box and never afraid to take a shot. United are on the rise.
Eriksen to Alli
Christian Eriksen (2PTS). Always a danger from set pieces, if Kane doesn't steal them! Eriksen played the full 90 minutes and may not be as fresh as his replacement who also happens to be in hot form.
Dele Alli (14PTS). Back to last season's unstoppable form. Dangerous runs behind defenders and links up well with Kane. Subbed after 60 minutes.
Anichebe to Barnes
Victor Anichebe (1PT). 😷 Awful to see his hamstring go before halftime. Unreal injury luck continues, so it's time to stop the bleeding and cash out on the big man.
Ashley Barnes (11PTS). Don't know much about Barnes, but he scored a penalty which is a bonus in FPL. Andre Gray praised Barnes for their chemistry, though we may not see a 4-4-2 against Man City.
Costa to Kane
Diego Costa (6PTS). Could've scored two goals if not for a brilliant save from Grant. His replacement is a sideways move, but we feel like gambling.
Harry Kane (16PTS). Two goals, one assist and maximum bonus points. We nearly kept Kane over Costa, but it's easier to say that after the fact. Kane was subbed early for extra rest, and he's the type of forward who scores in bunches.
Costa or Kane? This transfer isn't final. Worried about double Spurs cover and no Chelsea in attack. Another concern is Kane has more Transfers out (round) than TIR. His price may fall £0.1m before he plays on Wednesday. Is it worth the risk?
⚽️ 7 additional transfers confirmed on Sunday before the price changes.
*Stay tuned to this blog. We'll post transfers and updates here or in the comments section.
EDIT: One more late transfer to make it an even 10 Wildcard transfers.
Alonso to Baines
Marcos Alonso (3PTS). Alonso could be struggling to make the Spurs game after posting a photo of himself receiving treatment for an ankle injury. A Stoke player challenged him for a header and landed on the back part of his ankle. He took some time on the sideline but was able to continue.
Chelsea will stumble at some point and the coming weeks are a real test with Spurs (A), Leicester (A), Hull (H), Liverpool (A) and Arsenal (H).
Leighton Baines (7PTS). Consecutive returns for Baines grabbed our attention. Southampton next won't be easy, but The Saints have the least rest of all the teams during the busy period.
Southampton fixtures:
Lost 4-1 to Spurs on Wednesday, played down a man
Lost 2-1 to West Brom on Saturday, van Dijk sent off
Off on Sunday, Everton away on Monday with one day's rest
GW21 is tricky for Baines against Man City, but we can now use our bench cover for rotation. 👍
---
FPL GW20

top cheats.
Wildcard active.
Enough is enough with injuries and suspensions. 8 players out or doubtful for GW20 = Wildcard! 🚨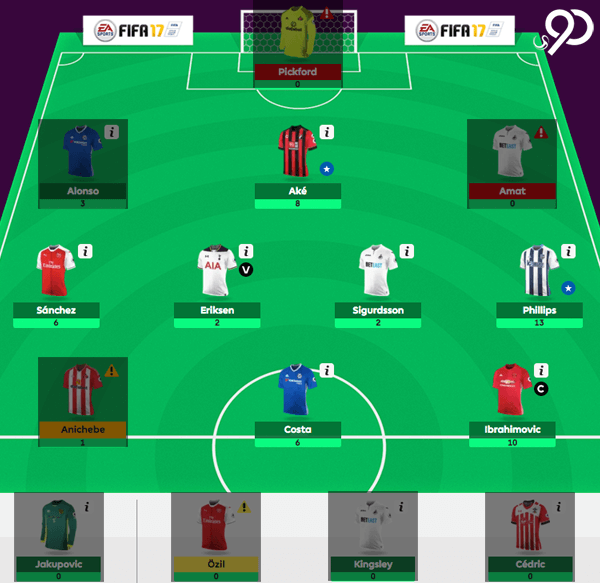 Not confident on a few of the remaining players that are fit, so it's time to make some moves. 10 transfers in total, only 5 survive. If it doesn't feel right, trust your instinct! 🙂
Only 5 survivors: Jakupovic, Aké, Sanchez, Phillips, Ibrahimovic
---

Green Lights
red flags.
Green Light: Robert Snodgrass (10PTS). Putting Payet to shame! Having struck the bar minutes earlier, Snodgrass curled another perfect free kick into the top corner. He's a difference-maker who can score even when the team is playing poorly. In Hull's case, that's always. 😉
Green Light: Zlatan Ibrahimovic (10PTS, captain). This season, choosing the right captain can mean the difference between green or red arrows. We can no longer rely on the core of the team to pull its own weight. It was looking like one of those days for Manchester United and Zlatan, similar to the game against Stoke. Kung-fu kicks should be allowed when you're a black belt! A blank could've been disastrous, but we can't be greedy with the assist and 10pts.
⚽️ Zlatan is averaging over 10pts in his last 4 games.

Red Flag: Jordi Amat (0PTS). Probably worse than a £3.9m non-playing defender. We keep putting him in the last spot on the bench, but he somehow manages to sneak into our side for a -1 or 0 point contribution. Amat is only good for a yellow card, but there are no 90-minute options in his price range. Until we can boost team value, we may have to suffer a bit longer. 😡
EDIT: No we don't.
Red Flag: Jose Holebas (-1PTS). Such potential as an attack-minded defender, but his hot-headedness makes him a risk. Holebas is already on 9 yellow cards, one more and he'll be banned for two games.
---
Players to Watch.
Kevin De Bruyne (2PTS). Credit to Liverpool for their high pressure, but De Bruyne struggled to impose himself into the game. He's still a threat from set pieces, so the question is whether Pep Guardiola can motivate this group.
Sergio Aguero (2PTS). Huge anticipation after the 4-match ban, and what a disappointment. Aguero rarely looked bothered and it's becoming more clear that Pep's style doesn't suit him. Aguero must bring it at home against Burnley.
Allan Nyom (0PTS). Already on a yellow card, Nyom was fortunate not to be sent off in the first half after dragging down a player from behind. Pulis couldn't risk it and yanked him at halftime. West Brom face Hull at home next, so he's ok to stay for now. Keep an eye on this story as Tony Pulis said he's accepted Nyom will leave for the Africa Cup of Nations. If he goes, his last match could be GW20.
Eldin Jakupovic (0PTS). David Marshall's own goal increases Jakupovic's chances of starting. If he doesn't get the nod GW20, he may not start again this season.
---
Price

rise and drop.
Here are our best price change predictions ahead of GW20!
Possible Price Rise: –
Possible Price Drop: –
Watchlist: Foster, Snodgrass, Costa
---
Captain.
West Brom have only one day's rest and could see surprise rotation. Spurs have an extra day and both Alli and Kane were subbed off early. It almost works to our benefit that Spurs play Chelsea because it forces key players to start.
Harry Kane is set as captain at the moment, but we could make an impulse switch to Phillips before deadline.
Final GW20 Team: http://upper90studios.com/2016-17-fpl-gw20-final-team.png
Stay up-to-date with our last-minute transfers and captain choice on Twitter or Facebook.
---
U90
mini league.
Leaders After Gameweek 19
Rank
Team & Manager

Round Score

Total Points

1
The Brew Crew
Calamity Jane
61
1116
2
CheCheese LC
Anuwat Vaewraveewong
44
1065
3
Santa Fe Cockroaches
Mick Jones
54
1063
4
United Red Devils
Tomasz Podstawny
53
1053
5
magpie36
Peter Kidd
50
1051
6
Bells Ballers
Matthew Bell
39
1050
7
Bold Move Cotton
Andrew Bryson
47
1045
8
White Walkerz
Wasif Naushad
61
1042
9
EZPZ
Jade Brisenden
52
1041
10
Kejriwal ke namune
The One
61
1041
---
Fantasy Premier League
strategy.
For the past 9 years, our team has finished in the top 1-2% of all players. 2014-15 was our best finish ever: Overall rank 13,126, top 0.4%. Our strategy is risky. We start slow and build team value by making 1-3 transfers each week. We save on goalkeepers and defenders and load up with expensive midfielders and forwards. By January, we can stack the full team with the most valuable players and come from behind to pull into the top 1-2% of all managers. See our previous finishes HERE.
Stay ahead of your competitors! Don't forget to subscribe to our email list at the top right of the page. We'll send you our weekly team prediction and best tips which you can use to tweak your team. Stay up-to-date with our last-minute transfers and captain choice on Twitter or Facebook.
---
Rate My Team.
Happy New Year! Just the 10 transfers with the Wildcard then. Diego Costa out, Harry Kane in? Leave us a comment and let's rate your GW20 team.
Good luck!
-Bruno.