GW1 Points: 64PTS! What to do if you're falling behind in FPL. Transfers revealed in new video section! Plus green lights red flags, and our top FPL tips for GW2.
FANTASY PREMIER LEAGUE TEAM TIPS FOR GW2
FPL

GW1 Review
GW1: 64PTS! (AVG: 58PTS). What a wild start! With none of our players featuring in the first two games, the 13 goals scored were catastrophic. Then it got worse on Saturday as we crawled to 20 total points!
Accept the challenge.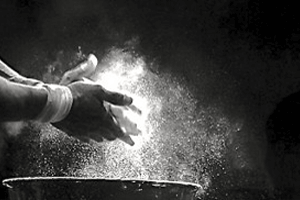 This season will be more unpredictable than ever. Whether you're a newbie or seasoned veteran, the most important thing is to stick to it! Even if you've had a slow start, you can make up lost ground quickly. It's not going to be easy, so brush aside the negatives now because we have work to do. Don't focus on poor results, instead turn your attention to creating a positive action plan and the results will follow.
⚽️ Where will your team underperform GW2?
---
The Good.
Romelu Lukaku (26PTS, captain). WHAT A DEBUT! Lukaku's incredible scoring record against West Ham continued with a sensational brace at Old Trafford. He scored in his Premier League debut at West Brom, Everton and now, Manchester United. Is Romelu the most powerful striker in the league? 🔥
Lukaku is a perfect match in Mourinho's system:
Drives at defenders with explosive pace
Outmuscles them with his back to goal
Great target man when defending a lead
⚽️ Lukaku has now scored more goals against West Ham than any other club (11).

Christian Eriksen (9PTS). MOTM. A spirited first half from Newcastle kept Spurs quiet, with Eriksen closest to FPL returns. It all changed early in the second after the customary red card to Jonjo Shelvey. Alli and Kane exploited the extra space and it was little surprise Eriksen was involved in both goals, setting up Alli for the opener and Davies for the second. 👍
Alli vs. Eriksen
In FPL-term, Alli vs. Eriksen remains a neck and neck decision. Alli tends to drift in and out of games, but it doesn't impact his high points-scoring ceiling. Eriksen is more involved in the buildup and a threat from set pieces, two factors that might give him an edge in the Bonus Points System (BPS).
⚽️ Since 2015-16, Eriksen has assisted more goals than any other player (30).

Ryan Bertrand (8PTS). Could've easily had four assists in the first half alone had Southampton been more clinical with their finishing.
⚽️ Bertrand was Southampton's top scoring defender last season (123PTS).
Other Standouts: Ben Foster (7PTS)
---
The Bad.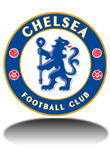 Marcos Alonso (0PTS). CHELSEA COLLAPSE? Alonso's chances were ruined after 13 minutes with Gary Cahill's straight red card. 3-0 down at halftime to Burnley at Stamford Bridge! In FPL-terms, Alonso's performance was ok. Down a man, he still pushed forward and came close with a shot from outside the box and a free kick that Heaton did well to get a hand to. Overall, Chelsea didn't create many chances and were punished with their first home opener defeat since 1998. 😳
More worryingly, Fabregas and Cahill join the list of players who are unavailable to face Spurs GW2. No Hazard, no Pedro, who knows where Diego Costa is, although to be fair Morata looked a real threat coming on as sub. Chelsea were in deep trouble and he looked sharp, stepping up with a goal and an assist that nearly rescued a point.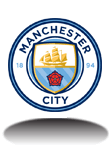 Kevin De Bruyne (3PTS). VICE CAPTAIN FAIL. An average performance from De Bruyne who looked lost in the system with David Silva and Fernandinho. It was frustrating to see him overhit crosses which are normally so dependable. An off-day for KDB, completely unexpected given his pre-season form.
Manchester City, who so many predicted to smash Brighton, raised concerns:
No connection between Jesus/Aguero and the midfield
Missed the pace and width of Sane and Sterling
Lacked creativity in the final third
Nearly everything was wrong for Man City, with the exception of the defense and David Silva's head.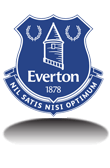 Davy Klaassen (1PT). DIFFERENTIAL FAIL. Our top differential for GW1 and we couldn't have been more wrong! The idea was to set up a strong team core, then make the team unique with 1-2 key differentials. But Klaassen did none of the things we look for in FPL points-scoring potential. He wasn't involved enough, although he did draw a defender to the near post for Rooney's goal.
Overall, Everton were flat and you could hear the frustration at Goodison with the fans urging the players to get forward. Under no pressure, Schneiderlin was caught numerous times turning back toward his own goal. It's a different look now without Lukaku, but the biggest miss is Seamus Coleman. One of our favorite defenders because of the energy he brings. It's contagious with teammates and the fans. But the way Everton played, especially the first 60 minutes, it was really hard to watch.
Then, to rub salt in the wounds, Klaassen was subbed off at 59min and 58 seconds! You couldn't make it up. Two seconds and he would've had extra points for completing 60 minutes and the clean sheet. 😡
⚽️ Apologies to those who followed the Klaassen tip.
---
New
video.

New GW2 video!! 💥 We'll show you what to do if you're falling behind in FPL.
Transfer plan LIVE
Watchlist revealed
Possible injury to key defender
---
FPL GW2

Team
Transfers: Revealed in the video! >> (https://youtu.be/nsJIY-UAdrQ)
Transfers OUT: ? ❌
Transfers IN: ? ✅
**One transfer confirmed before Sunday night's price changes, one confirmed Tuesday night.
*Stay tuned to this blog. We'll post transfers and updates here or in the comments section.
---
Latest
team.
*UPDATE Aug 18: Final GW2 Team >> http://upper90studios.com/fpl-latest-team/
Toying with this idea of revealing the latest team and transfers as soon as they're confirmed. Possibly in a members section…
Let us know what you think, thanks!
---
FPL GW2

top cheats.
Premium Defenders.
Which premium defender will you select to start the season?
Marcos Alonso (0PTS). The most expensive defender in FPL at £7.0m. See GW1 Review above.
Kyle Walker (6PTS). Priced at £6.5m, Walker is not exactly cheap. However, Pep Guardiola has improved the defensive shape significantly with three central defenders and two strong wingbacks.
Kompany, Stones, Otamendi
Walker Danilo
Walker was one of City's best driving forces down the wing, but instead of crossing, he most often went short to De Bruyne or Silva. It will be interesting to see how he will settle behind Sterling or Sané.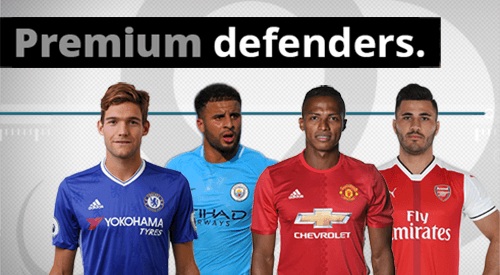 Antonio Valencia (5PTS). At £6.5m, is he Manchester United's most nailed-on defender? Mourinho knows how to set up defensively and it showed as United were hardly tested by West Ham's Chicharito and Arnautovic. Valencia's increased aggression in recent seasons could draw more bookings, but the biggest concern is what happens around Champions League time. Last season, Mourinho experimented with resting Valencia in the league in order to play him in Europe.
Sead Kolasinac (5PTS). An absolute beast down the left for Arsenal at £6.0m. Kolasinac easily bullied Mahrez off the ball and constantly popped up in Leicester's box. He nearly scored with a shot from a tough angle, then was in the right place for the assist to Welbeck. He would've had another assist had a handball in the box been given. Of course, when defenders push forward, they risk being caught out. Arsenal's weaknesses were:
Dealing with Leicester's pace on the counter
They couldn't get near Jamie Vardy
Defending from crosses was worrying
The concern is whether Kolasinac is nailed on in the long-term. What will happen when Koscielny and Mustafi return? Will Wenger play him in a three central defender system? 🤔
---

Green Lights
red flags.
Green Light: Harry Kane (1PTS). Slow first half, although credit must be given to Newcastle who worked their socks off. After the red card, Kane loosened up and could've ended with a hat-trick on a different day. The concerns are facing a wounded Chelsea at Wembley and his miserable scoring record in August.
Green Light: Ahmed Hegazi (15PTS). A goal, clean sheet and maximum bonus earned Hegazi the title of top scoring player in the opening round! Not bad for a defender. His height will cause havoc in a West Brom side that excels at set pieces. The one concern is what happens when Gareth McAuley recovers from injury in a few weeks.
Green Light: Henrikh Mkhitaryan (11PTS). As suggested in the comments section of last week's post, Mkhi edged Pogba on points-scoring potential due to his positioning on the pitch. Mourinho has been playing Mkhi in the #10 role and it worked brilliantly. Two assists for the Armenian in a convincing 4-0 win. As Pogba adjusts to a stronger midfield, it may become closer, so trust your instinct! 👍
⚽️ Mkhitaryan created more chances this weekend than any other player (6).
Big season to come? @HenrikhMkh becomes pre-season joint top scorer for #MUFC. 3 goals + 3 assists (7 games) 👏 pic.twitter.com/b8ezRIjMmN

— Upper 90 Studios (@upper90studios) August 2, 2017
Red Flag: Davy Klaassen (1PT). Came off at 59:58 for young Tom Davies. Klaassen struggled to exert himself in the #10 role and Everton lacked energy. Davies brought a much-needed spark which increases Klaassen's chances of being benched Gameweek 2.
Red Flag: Luka Milivojevic (1PT). With everything going wrong for Crystal Palace, Frank de Boer sacrificed Milivojevic at halftime. This result might be a one-off, but it increases Mili's risk of rotation.
*UPDATE Aug 15: News that Zaha could be out for a month with a knee injury increases Milivojevic's chances of playing.
---
Players to Watch.
Jay Rodriguez (1PT). Quite a debut from the forward who was at the heart of West Brom's most dangerous attacks and came close with a curling effort that missed just wide. The only thing missing was a return in FPL points. Unlucky! 🙁
Steve Mounie (12PTS). Who needs time to settle into the Premier League? Mounie looked the real deal with two debut goals and all three bonus points in a shocking away victory over Crystal Palace.
Salah, Mané, Firmino. Quiet start, then exploded into life. When Liverpool are on their game, they score goals for fun. The one concern is Liverpool's trip to Germany midweek. Is it time to invest in Liverpool attackers?
---
Price 

rise and drop.
Here are our best price change predictions ahead of GW2!
Possible Price Rise: Hegazi, Xhaka, Salah, Vardy
Possible Price Drop: Cahill, Fabregas, Coutinho
Watchlist: Revealed in the video! >>  (https://youtu.be/nsJIY-UAdrQ)
---
Captain.
Romelu Lukaku is set as captain at the moment, but we could make an impulse switch to Kane before deadline.
Final GW2: Coming soon…
Stay up-to-date with our last-minute transfers and captain choice on Twitter or Facebook.
---
U90
mini league.
Rank
Team & Manager

GW 

TOT

1  
Top Gunz
Asad .
118
118
2  
Red Devils FC
Yusuf Maulana Aditya
105
105
3  
cfc
akmal zakwan
102
102
3  
BEELEDEG FC
MuhammadKhaled AbdulHamid Jr
102
102
3  
Ravenswood
Wayne Hawkins
102
102
6  
Henrikh Targaryen
Ahmed Ndanusa
101
101
6  
Special F c
Jose Jerry
101
101
8  
No surprise I'm top
David Nicholson
98
98
8  
United956
Mohamed Attia
98
98
10  
gfc
akmal zakwan
97
97
10  
Mighty United(XI)
Gaurab Pal
97
97
10  
Dyslexia Untied
Mayur Humphries
97
97
---
U90
free bonus.
Subscribe to our email list and receive the 2017-18 Fixture Difficulty Cheat Sheet!
*Click the image below.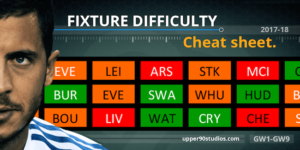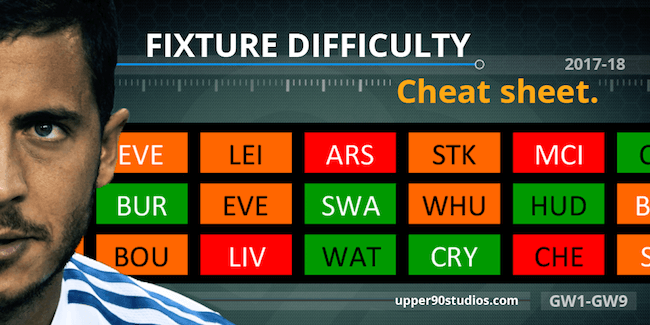 ---
Fantasy Premier League
strategy.
For the past 10 years, our team has finished in the top 1-2% of all players. 2014-15 was our best ever finish: Overall rank 13,126, top 0.4%. Our strategy is risky. We start slow and build team value by making 1-3 transfers each week. We save on goalkeepers and defenders and load up with expensive midfielders and forwards. By January, we can stack the full team with the most valuable players and come from behind to pull into the top 1-2% of all managers. See our previous finishes HERE.
Stay ahead of your competitors! Don't forget to subscribe to our email list at the top right of the page. We'll send you our weekly team prediction and best tips which you can use to tweak your team. Stay up-to-date with our last-minute transfers and captain choice on Twitter or Facebook.
---
Rate My Team.
What to do if you're falling behind in FPL. Premium defenders revealed and new video section! Leave us a comment and let's rate your GW2 team.
Good luck!
-Bruno