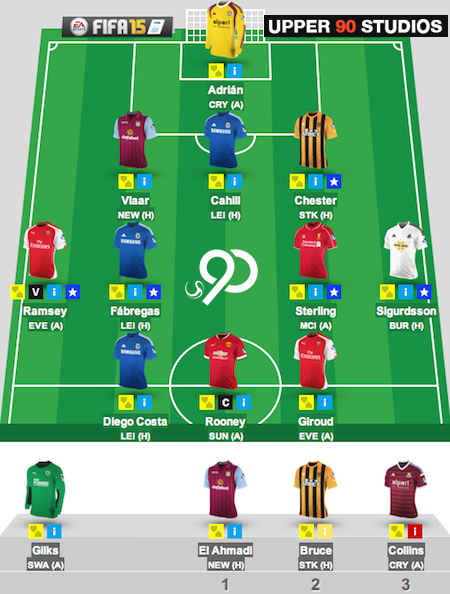 Want to know our never-fail strategy for building team value in the first half of the season? How have we finished in the top 1-2% every season for the past 7 years?
 Our Fantasy Premier League Team for GW2 – Strategy to Build Team Value
FPL

GW1 Recap
We're happy with our GW1 points total and player choices overall, in particular going into season with Fabregas (£9.0m, now up £9.1m) over Hazard (£10.0m). Fabregas was our top performer GW1 with 11 points (2 assists, 3 bonus points). He was arguably the best performer in the Premier League this week, involved in the linkup play between midfield and attack, taking corner kicks and some set pieces. Even though Chelsea never got out of second gear, Burnley wasn't as weak as many suggest.
West Ham conceded at 90+3 vs. Spurs which ended up costing us 8 points. Goalkeeper Adrian would've had 7 points for the clean sheet, and Collins, even with his red card would've had 3 points – before any bonus points. We're keeping Collins for now as he serves his one match suspension. Big Sam isn't a fan of goals – at either end.
PS: We didn't use our wildcard.
FPL

GW2 Team
We have no patience for Manchester United's nightmare start. Off is Ashley Young (1pt) and Juan Mata (2pts) for Sterling (13pts) and Sigurdsson (13pts). Out is Stoke defender Cameron who didn't play, for Hull's Chester (15pts). We made these transfers very early to take advantage of the player value rise.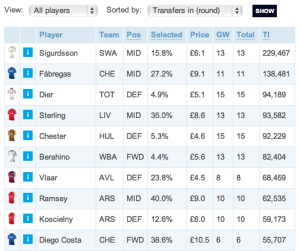 7 of the top 10 player "transfers in" for this round feature on our team. This is one of our biggest FPL strategies and you either love it or hate it. Making 1-3 transfers each week during the first half of the season to boost team value, costs us points.
But after January, we can stack up our forward line with Aguero, Rooney and Diego Costa while having a beast midfield and make up all the lost ground. It's a risky tactic, but one that hasn't failed us yet.
Our favorite formation is 3-4-3 followed by 3-5-2. We rarely field four defenders to start.
Green Light: Aaron Ramsey. His red card in the Champions League means he will now feature in the Premier League without being rested. Our defenders are also looking solid with favorable home fixtures this week.
Red Flag: Aston Villa's Vlaar (8pts). Coming off a strong World Cup campaign, Vlaar delivered a strong GW1 performance with a clean sheet and 2 bonus points. Villa's next two fixtures look great on paper – Newcastle and Hull at home – but look ahead at GW4 and the fixture nightmare begins: Liverpool, Arsenal, Chelsea, Man City, Everton! His midfield teammate El Ahmadi, who's on our team is one of the first players we plan on offloading next week.
Our weakness for GW2 is the bench. None of our subs may get any minutes this week due to not being regulars, injury or suspension – which is worrying. By next week, we should have all three of our subs available for 90 minutes.
Captain. Wayne Rooney. Although his passing and linkup play was below par vs. Swansea, we expect Rooney to deliver consistent points – he scored, hit the bar with a free kick and was awarded 1 bonus point. United was in great form away last season and we expect them to bounce back with a win.
Fantasy Premier League
strategy.
For the past 7 years, our team has finished in the top 1-2% of all players. Our strategy is risky. We start slow and build team value by making 1-3 transfers each week. We save on goalkeepers and defenders and load up with expensive midfielders and forwards. By December, we can stack the full team with the most valuable players and come from behind to pull into about 50,000th place out of 3 million+ players (top 1-2%). See our previous finishes HERE.
Stay ahead of your competitors!
Don't forget to subscribe to our email list at the top right of the page. We'll send you our weekly team prediction and best tips which you can use to tweak your team.
We'll be changing our team often, sometimes at the very last minute. If you want to stay up-to-date with our lineups, transfers, and predictions, like us on Facebook or follow us on Twitter.
Have your say below. Leave us a comment and let's rate your team.