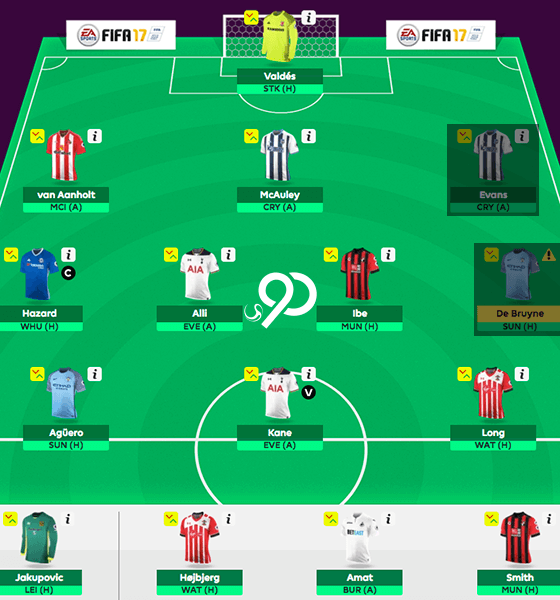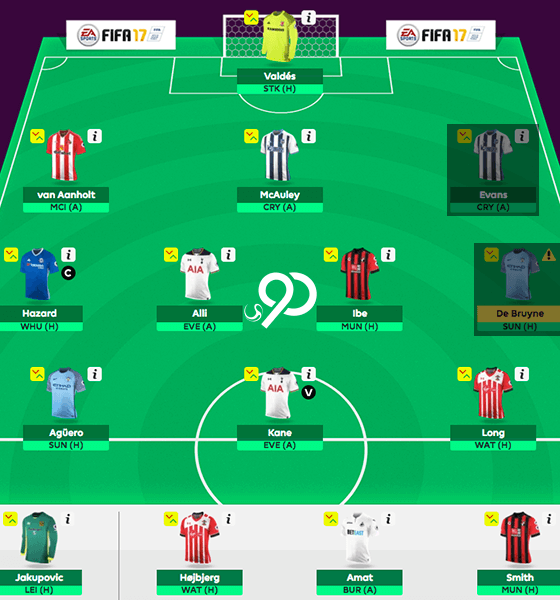 GW1 Team: Ready! Our final picks are set just in time for opening day in the Premier League! Plus top 10 forwards, pre-season form, U90 mini-league code and our top FPL tips for GW1.
FANTASY PREMIER LEAGUE TEAM TIPS FOR GW1
U90
mini-league.
Join our #FPL league for a chance to win a prize!
Code: 33040-461412
Auto-join by clicking the link: https://fantasy.premierleague.com?autojoin-code=33040-461412

---
FPL GW1
podcast.

New GW1 Podcast! Top 10 Forwards in FPL! Pros and cons of the best strikers in Fantasy Premier League 2016-17.
---
Youtube
video.
---
Pre-season.
Eden Hazard. Is he back to his best? Hazard continued where he left off last season with some impressive performances this summer. He looks fitter, sharper, and is taking on defenders with pace.💪Chelsea's attack also seems to be firing on all cylinders heading into opening day – a characteristic we look for when determining a player's point-scoring potential.
⚽️ Hazard scored two goals in 25 minutes against Real Madrid.
Harry Kane. Kane looked absolutely awesome in the pre-season match against Inter Milan. It took him just 5 minutes to get on the scoresheet! The final result? An emphatic 6-1 win for Spurs. 👍
Reasons to consider Kane:
200 points average in his last two seasons in FPL
Dangerous attack with Alli, Eriksen, Lamela
Favorable fixtures until November
Drafting in Kane does have a downside – it creates an unbalanced team that favors strong attackers at the expense of goalkeepers, defenders and bench players. This strategy is risky. If we get things wrong initially, our bench won't be strong enough to provide adequate cover. Everyone has different tactics that work well for them, so always trust your instinct over anyone else's advice. 🙂
⚽️ Kane scored twice, provided an assist and struck the post against Inter Milan.
---
FPL GW1 team.
10 out of 15 players from our first draft team have changed, including Ozil and Lukaku! The pre-match press conferences should reveal more information regarding fitness and who will start GW1, so our team may change again before deadline.
Final GW1 Team: http://upper90studios.com/2016-17-fpl-gw1-team.jpg
*Stay tuned to this blog. We'll post transfers and updates here or in the comments section.
---
FPL GW1

top cheats.
Plan A
De Bruyne has been working hard on his fitness in the off-season. There's still a chance he will start GW1, so we need to dig up as much info as possible until deadline. Even if he starts GW1 off the bench, he is capable of delivering points as Sunderland defenders will have been chasing Man City attackers all game. Having him from GW1 gives us an advantage over others since he will be a hot commodity by GW2. His ownership percentage is a low 9%.
Plan B
At £10.5m, De Bruyne ties up funds which can be used to strengthen our defense. Options for KDB include Mahrez (£9.5m), Payet (9.5m) and Mané (£9.0m). Any of these would allow us to upgrade one of our defenders, possibly Evans (£4.5m), to Fonte (£5.5m). Small doubt over Payet starting since he arrived late for pre-season.
Ozil (£9.5m) made our first draft team, but he won't be ready in time for GW1. To make a possible move for Sanchez (£11.0m) after GW1 requires two transfers in order to raise £0.5m. Two possible options with our current lineup are Valdés to Pickford or Ibe to Surman.
---
Players to Watch.
Who are the under-the-radar picks for GW1?
Andy Carroll. With players such as Payet and Andre Ayew providing quality service, Carroll could have a strong start to the season. The question is whether he can stay fit.
⚽️ Carroll bagged a brace against Juventus.
Shane Long. Shane Long did an excellent job for us at the end of last season. He was rewarded with a new contract at Southampton and will look to prove that he's worth the money.
⚽️ Long scored the game-winning goal against Athletic Bilbao (1-0 win).
Sadio Mané. Looked unstoppable against Barcelona in the pre-season. Mané has a high points ceiling but can be inconsistent. One concern is Liverpool's fixtures. Four of their first five games are away:
Arsenal (A), Burnley (A), Spurs (A), Leicester (H), Chelsea (A)
⚽️ Mané scored his first Liverpool goal in a 4-0 win over Barcelona.
---
Watchlist: Fonte, Mahrez, Mané, Eriksen, Payet, Sanchez, Tadic, Redmond, Vardy, Carroll
---
Captain.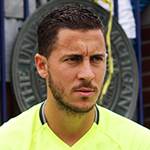 Eden Hazard is set as captain at the moment, but we could make an impulse switch to Kane before deadline.
Final GW1 Team: http://upper90studios.com/2016-17-fpl-gw1-team.jpg
Stay up-to-date with our last-minute transfers and captain choice on Twitter or Facebook.
---
Fantasy Premier League
strategy.
Since 2007-08, our team has finished in the top 1-2% of all players. 2014-15 was our best finish ever: Overall rank 13,126, top 0.4%. Our strategy is risky. We start slow and build team value by making 1-3 transfers each week. We save on goalkeepers and defenders and load up with expensive midfielders and forwards. By January, we can stack the full team with the most valuable players and come from behind to pull into the top 1-2% of all managers. See our previous finishes HERE.
Stay ahead of your competitors! Don't forget to subscribe to our email list at the top right of the page. We'll send you our weekly team prediction and best tips which you can use to tweak your team. Stay up-to-date with our last-minute transfers and captain choice on Twitter or Facebook.
---
Rate My Team.
Is your final GW1 team ready? So many players to discuss, Hazard, Kane, De Bruyne and more. Don't forget to join our mini-league for a chance to win a prize!
Good luck!