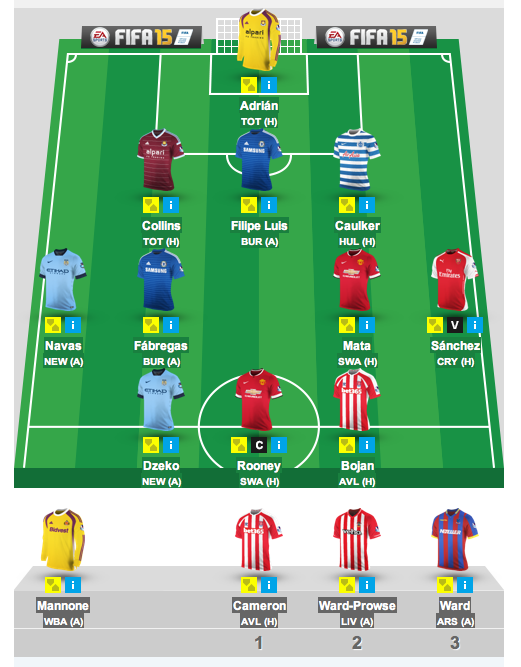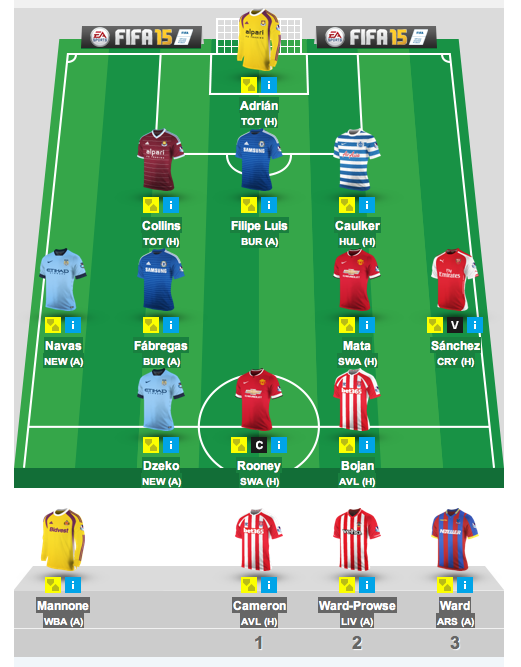 *UPDATE AUG 14th GW1 TEAM:
Adrian, Collins, Cahill, Cameron, Ramsey, Fabregas, Mata, Young, Costa, Rooney c, Giroud. Subs: Gilks, El Ahmadi, Vlaar, Bruce.
See our latest team HERE: GW1 Team
Lots of changes since our "gut instinct" team. We may make more changes before kickoff Saturday, so follow us on Twitter and Facebook for our latest moves (we won't be blasting our subscribers with multiple emails each week). Our biggest change was sacrificing Alexis Sanchez to make funds for Aaron Ramsey and Diego Costa. Navas and Dzeko are out as Man City looked unprepared against Arsenal in the Community Shield. All of our midfielders and forwards are Man United, Chelsea, and Arsenal players which is a huge risk! Countdown to #BPLkickoff: 1 day!
FPL GW1 Team
gut instinct.
Here's the Upper 90 Studios "gut instinct" Fantasy Premier League team selection for GW1.
Captain: We chose Wayne Rooney because of his pre-season form and having seen him in person in Michigan vs Real Madrid. Rooney is on a mission to prove to Louis Van Gaal that he deserves the captaincy and will make his mark early in the season before Robin van Persie comes back.
Goalkeepers/Defenders: We've gone for bargains who punch above their weight. Chelsea's Felipe Luis is the most notable of our defenders. We've included a few West Ham players because of Big Sam's ability to keep clean sheets, plus they have favorable fixtures early on.
Midfielders: Fabregas, Mata, Sanchez. We've decided to bring in Jesus Navas. He was flying this pre-season, again we saw him in person against Liverpool (tough job, we know), and no one could get near him as he pumped ball after ball into the box for Dzeko and Jovetic. With only 1.7% of players selecting him, he might be one to watch to get a head start over the competition.
The reason we chose Fabregas over Hazard is risky. Mourinho wasn't happy with Hazard's criticisms of Chelsea's tactics at the end of last season, claiming Hazard doesn't sacrifice for the team. David Luiz also went public with his views of Mourinho's tactics last season, and Mourinho sent him packing to Paris. Fabregas, Oscar, Willian, Schurlle, Hazard. Someone will have to sit and we have gambled on Fabregas starting. But we're not stubborn, if Hazard has a strong first week, we'll make room for him GW2.
Forwards: Rooney, Dzeko, Bojan. Rooney is simple. Dzeko is one of our favorite players who we believe is highly underrated. If he stays fits, he delivers consistent goals and assists. Bojan is unproven with tons of potential, and a total gamble at this point.
Watchlist: Krul, Hazard, Nugent, Sterling, Giroud, Bony.
Red Flag: Lukaku (tough fixtures), Sturridge (injury), Gerrard (no Suarez = possibly less PKs)
There will be more twists and turns in the transfer market and our final team will probably look completely different come August 16, the day Fantasy Premier League starts. So check back soon.
Fantasy Premier League
strategy.
For the past 7 years, our team has finished in the top 1-2% of all players. Our strategy is unique and you either love it or hate it. We start slow and build team value by making 1-3 transfers each week. We save on goalkeepers and defenders and load up with expensive midfielders and forwards. By December, we can stack the full team with the most valuable players and come from behind to pull into about 50,000th place out of 3 million+ players (top 1-2%). See our previous finishes HERE.
Stay ahead of your competitors!
Don't forget to subscribe to our email list at the top right of the page. We'll send you our weekly team prediction which you can use to tweak your team.
We'll be changing our team often, sometimes at the very last minute. If you want to stay up-to-date with our lineups, transfers, and predictions, like us on Facebook or follow us on Twitter.
Have your say below. Leave us a comment and let's rate your team.