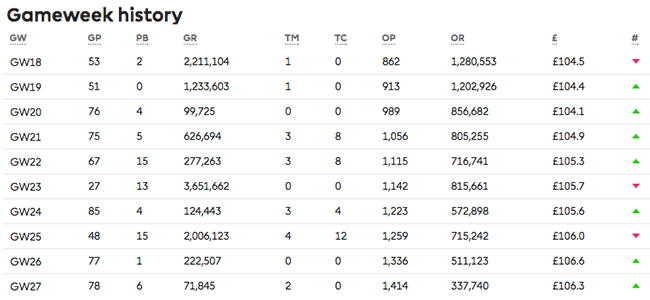 GW27 Points: 84PTS! Team Value: £106.7m! Blank Gameweek strategy! Hazard or Alli for Mané? Plus green lights red flags, and our top FPL tips for GW28. *Man City vs Stoke on Wednesday.
FANTASY PREMIER LEAGUE TEAM TIPS FOR GW28
FPL

GW27 Review
GW27: 84PTS! (AVG: 50PTS). Team Value: £106.7m! Big green arrows and rise in the overall rank! *Manchester City vs Stoke still to come on Wednesday.
Since the start of 2017, Upper 90 Studios has climbed from 1,280,553 to 337,117! 🙂
Problem = opportunity.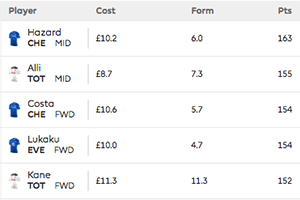 The hardest part of our plan for the blank Gameweeks was to stick to it! We held firm on the sale of Sanchez and Ibrahimovic for Hazard and Lukaku, then we passed on Aguero as it didn't feel right to sell our attackers. Instead of stumbling over this problem, we saw it as an opportunity and acted quickly. This Gameweek isn't over yet! There is a good chance those who bet on Manchester City cover for DGW27 could be handsomely rewarded, in particular those who Triple Captained Aguero! Will others keep up?
⚽️ Always ask yourself, "Where is the big overlooked opportunity here?"

---
The Good.
Harry Kane (13PTS). ROCKET! Harry Kane continues to prove his doubters wrong with yet another brace. That's five goals in his last two in the league! His first goal was a 30-yard screamer, and he broke free to cooly slot his second after a brilliant touch from Dele Alli. Kane is just two points behind leaders Lukaku and Costa in the overall standings and don't forget he missed two months with an ankle injury!
⚽️ Kane is now Premier League's top scorer with 19 goals, one ahead of Lukaku.

Dele Alli (12PTS). You can never count out Alli, which is why we refused to sell him. He repaid us with an assist for Kane and a deft flick to score the game-winning goal. His positioning is pure FPL-gold as he plays almost as a second striker making runs behind the defense. Deadly combo with Kane. 👊
⚽️ Alli is now the third highest scorer in FPL with 155 points, behind Sanchez and Hazard.

Eden Hazard (11PTS). 11 seconds. That's how long it took between Kante's interception and Hazard to power ahead of the defenders to score Chelsea's first. Hazard was unlucky not to bag two assists to Diego Costa, but we're grateful that FPL awarded Hazard and Costa 3 bonus points each. Between Kane, Alli, Costa and Hazard, we pulled in a massive 11 points in BPS!
⚽️ Hazard has 11 goals and 7 assists in the Premier League this season.

Other Standouts: Lee Grant (13PTS), Raheem Sterling (12PTS, captain), Gylfi Sigurdsson (5PTS), Romelu Lukaku (6PTS), Diego Costa (9PTS)
Power 7

---
The Bad.
Defenders (3PTS). The pressure was on with every position delivering a return except for defense!
Alfie Mawson (1PT) was robbed of a clean sheet by referee Anthony Taylor who awarded Burnley a penalty after a handball from… a Burnley player! Mawson also struck the post twice in 30 seconds which is not our idea of a good time. The only silver lining is the player we sold for Mawson also blanked.
Realistically, we didn't expect much from Seamus Coleman (1PT) against an in-form Spurs, which is why we reduced the risk by benching his teammate Leighton Baines. Even though Coleman made his trademark runs, Koeman's negative tactics meant less targets at the end of his crosses.
We can forgive the others, but Christ Brunt (1PT) has some 'splaining to do. As mentioned last week, Crystal Palace at home was the last decent fixture for West Brom before a nightmare run of games. Luckily for him, WBA do not blank GW28. We will keep him for now, but at £5.1m he has to deliver. 😡
---
FPL GW28

Team
Transfers: 1 (No hit)
Transfers OUT: Hazard ❌
Transfers IN: Mané ✅
Final GW28 Team: http://upper90studios.com/2016-17-fpl-gw28-team.png
Plan B involves an additional transfer for a -4 hit. Since we planned for the blanks by taking transfer hits GW25, this should be the third consecutive Gameweek without a hit. Maybe! 😎
Hazard to Mané
Eden Hazard (11PTS). He was incredible. Also goodbye.
Sadio Mané (13PTS). One goal and an assist in a huge win over Arsenal that dropped the Gunners out of the top four. Mané has been awesome at Anfield and we're happy to jump on the bandwagon.
⚽️ Mané is averaging 14.5 points in his last two home games.
*Stay tuned to this blog. We'll post transfers and updates here or in the comments section.
---
FPL GW28

top cheats.
Blank Gameweek.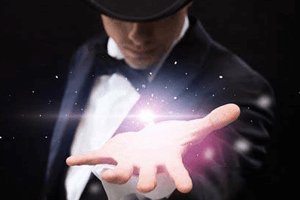 At the moment, we have nine players available for GW28 which is right in the sweet spot of 7-9 players. We established this number by pulling it out of a hat.
Seriously, anywhere around 7 players is reasonable because it provides strong cover for the blanks while keeping key players around for the future. Even though they have a blank, selling top players such as Kane and Alli will only mean having to buy them back GW29 for a transfer hit and at a higher price.
⚽️ Despite the blank, we are keeping key players such as Kane, Costa, Alli, and Sterling.
Player Profit.
Profit made from price rises helped determine our transfer victim. Go to 'Transfers' > 'List View' and check Current Price (CP), Selling Price (SP), and Purchase Price (PP).
Alli vs. Hazard
In our case, Alli's Current Price is £8.7m, Selling Price £8.4m and Purchase Price £8.2m. Even if Alli falls £0.1m, his Selling Price would remain £8.4m because for every £0.2m rise, you profit £0.1m. With Alli and Spurs in top form, selling him now is complicated. Buying him back GW29 could cost us an extra £0.3m.
Hazard's Current Price is £10.2m, Selling Price £10.1m and Purchase Price £10.1m. Since Hazard is one of the top players being sold, we could potentially be able to buy him back at our initial Purchase Price of £10.1m. With an eye on Team Value, this week's transfer decided itself.
⚽️ Team Value is £106.7m despite selling high profit players in recent weeks.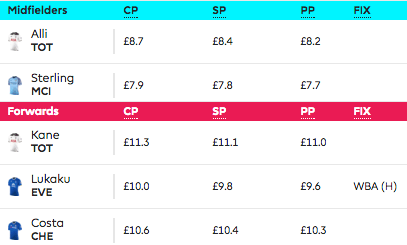 ---

Green Lights
red flags.
Green Light: Seamus Coleman (1PT) and Leighton Baines (1PT). Everton now have two favorable home fixtures against West Brom and Hull City. It's worth noting that Everton have difficult away matches GW30-31, so double Everton cover might be more effective in a rotation system with other defenders.
Green Light: Sadio Mané (13PTS). Three goals, one assist and maximum bonus points in his last two home games. The concern is Liverpool are in the habit of only raising their game against the big teams. If they play down to their opponent's level, we could be in for another shock.
⚽️ Mané has now scored 12 Premier League goals this season, 8 of them at home.
Green Light: Gylfi Sigurdsson (5PTS). Great opportunity for Swansea to pull away from the relegation zone with matches against Hull, Bournemouth and Middlesbrough. Swansea are fired up for the run-in and Siggy was unlucky not to score more points GW27.
Green Light: Fernando Llorente (13PTS). Incredible in the air which is great news when you have Sigurdsson on set pieces. Three goals in his last two games is more than enough to give him a chance. Another positive is Llorente is now completing 90 minutes instead of being subbed early.
Green Light: Romelu Lukaku (6PTS). Unfair comparison with Kane because Kane has a better supporting cast. Alli always attracts attention from defenders which opens running lanes for Kane. Koeman's closest option is Mirallas but he lacks consistency and can be selfish at times. If Koeman plays him at all! Kane also has Eriksen to provide the creative spark and final ball. Barkley falls short and it's not so much a lack of ability, more a matter of self-confidence. Despite all this, Lukaku is capable of turning most defenders in the world and beating them one-on-one with pace and power. 💪
⚽️ Lukaku has more Premier League goals (78) than Cristiano Ronaldo (77) at the same age.
Red Flag: Zlatan Ibrahimovic (-1PT). What a nightmare! Ibra missed countless chances to score, one in particular stands out where the ball bounced off his knee from 3 yards out and went away from goal. If that wasn't bad enough, he also missed a penalty and faces a 3-match ban for elbowing Tyrone Mings!
*Apologies to the readers who asked whether to captain Ibra against Bournemouth. They were conceding goals for fun so we agreed it was a smart move. It was one of those jaw-to-the-floor moments watching him miss chance after chance, then lose his cool.
Red Flag: Alexis Sanchez (4PTS). Benched by Wenger. Sanchez did his best after coming on at halftime and he did well to set up Welbeck for Arsenal's only goal. Rumors of a bust-up with his teammates in training, and Ozil's surprise absence in recent games are red flags.
Frustration for those who kept Zlatan and Sanchez for the blanks, then they repay them like this! 🙁
Red Flag: Kevin De Bruyne (1PTS). Benched by Pep for the second time this season! We can remember the first one earlier in the season because we were counting on him to save our week. Instead, he came on for the dreaded 1-point cameo. Anyone can get the chop on Wednesday!
---
Players to Watch.
We're struggling to identify many standouts this week because the majority of the teams GW28 don't have players we want to invest on in the long run. All the key teams with the exception of Liverpool are off!
Another issue is making transfer hits count when betting on the scraps available for GW28. How do we justify hits for players we don't rate in FPL? If you scout any hidden gems, feel free to share them in the comments below. Thanks! 👍
---
Price

rise and drop.
Here are our best price change predictions ahead of GW28!
Possible Price Rise: Sigurdsson, Mané, Lukaku, Llorente, Kane
Possible Price Drop: Phillips, Sanchez, Eriksen, Defoe, Ibrahimovic
Watchlist: Llorente
---
Captain.
? is set as captain at the moment, but we could make an impulse switch to ? before deadline.
Final GW28: http://upper90studios.com/2016-17-fpl-gw28-team.png
Stay up-to-date with our last-minute transfers and captain choice on Twitter or Facebook.
---
U90
mini league.
Rank
Team & Manager

Round Score

Total Points

1
Best in world
David Nicholson
88
1565
2
CheCheese LC
Anuwat Vaewraveewong
69
1562
3
Santa Fe Cockroaches
Mick Jones
70
1561
4
Bells Ballers
Matthew Bell
87
1550
5
KDBinho
Adnan Hajrulahovič
72
1538
6
The Brew Crew
Calamity Jane
63
1537
7
Nyoritis FC
Oliver Wanyama
54
1531
8
Kiazan FC
carl Williams
114
1529
9
Jwvak
Kamin Tohari
78
1520
10
Kejriwal ke namune
The One
57
1502
---
Fantasy Premier League
strategy.
For the past 9 years, our team has finished in the top 1-2% of all players. 2014-15 was our best finish ever: Overall rank 13,126, top 0.4%. Our strategy is risky. We start slow and build team value by making 1-3 transfers each week. We save on goalkeepers and defenders and load up with expensive midfielders and forwards. By January, we can stack the full team with the most valuable players and come from behind to pull into the top 1-2% of all managers. See our previous finishes HERE.
Stay ahead of your competitors! Don't forget to subscribe to our email list at the top right of the page. We'll send you our weekly team prediction and best tips which you can use to tweak your team. Stay up-to-date with our last-minute transfers and captain choice on Twitter or Facebook.
---
Rate My Team.
Blank Gameweek strategy! Are you on the sweet spot of 7-9 players? Sell Hazard or Alli for Mané? Leave us a comment and let's rate your GW28 team.
Good luck!
-Bruno