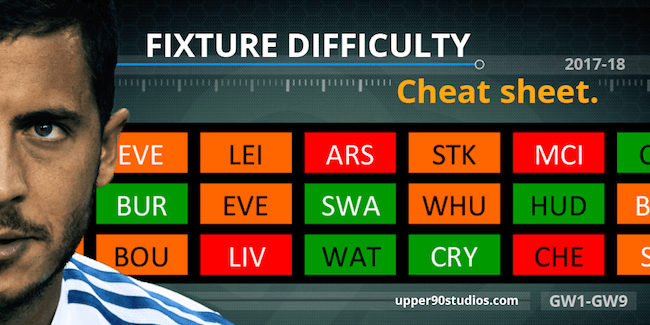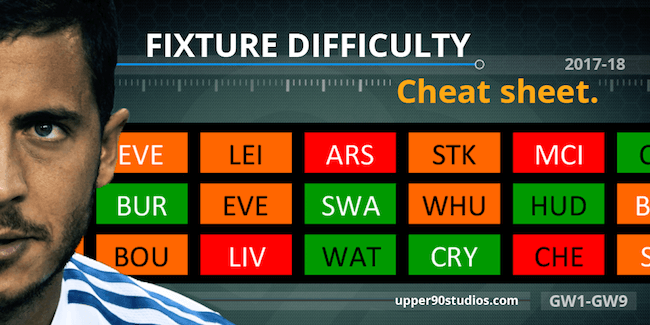 FREE Bonus! Download your 2017-18 Fantasy Premier League Fixture Difficulty Cheat Sheet. 🔥
U90
free bonus.
Subscribe to our email list and receive the 2017-18 Fixture Difficulty Cheat Sheet! >>>
*Available exclusively to subscribers.
---
Fixture Difficulty

cheat sheet!
HOW TO USE IT
Simple. It's GW2 and you need to know the strength of Southampton's upcoming fixtures. Look at the next three columns GW3, GW4, GW5.
Southampton are GREEN: Huddersfield, Watford, Crystal Palace
It's GW5 and you want to know whether Crystal Palace face easy or difficult games. Look at the next three columns GW6, GW7, GW8.
Crystal Palace have a nightmare of RED: Man City (A), Manchester United (A), Chelsea (H)
⚽️ U90 Fixture Difficulty Cheat Sheet uses a unique algorithm to set team strength.
---
HOW TO GET IT
Available exclusively to U90 email subscribers! If you've already subscribed, check your inbox. If you're a new user, get the free download by signing up below. Thanks! 👇
---
First Draft
team.
In case you missed it, here's a video of our First Draft team! See the step-by-step selection process LIVE! Watch as we discuss key FPL picks to start the 2017-18 season with a bang!
>>> Subscribe to our YouTube channel 👉 https://youtu.be/CpSjkgNiGVw
Description.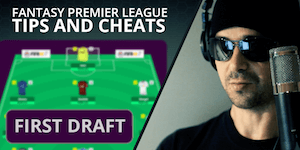 • Why a strong team core delivers big points
• How to select a winning "first draft" team LIVE
• Proven start-of-the-season strategy
Leave a comment using the link below and let's rate your team! 🙂
BLOG: http://upper90studios.com/how-to-select-winning-first-draft-team-fantasy-premier-league/
Thanks!
-Bruno
---
Fantasy Premier League
strategy.
For the past 10 years, our team has finished in the top 1-2% of all players. 2014-15 was our best finish ever: Overall rank 13,126, top 0.4%. Our strategy is risky. We start slow and build team value by making 1-3 transfers each week. We save on goalkeepers and defenders and load up with expensive midfielders and forwards. By January, we can stack the full team with the most valuable players and come from behind to pull into the top 1-2% of all managers. See our previous finishes HERE.
Stay ahead of your competitors! Don't forget to subscribe to our email list at the top right of the page. We'll send you our weekly team prediction and best tips which you can use to tweak your team. Stay up-to-date with our last-minute transfers and captain choice on Twitter or Facebook.
---
Free Bonus FPL tool to raise your game! 2017-18 Fantasy Premier League Fixture Difficulty Cheat Sheet